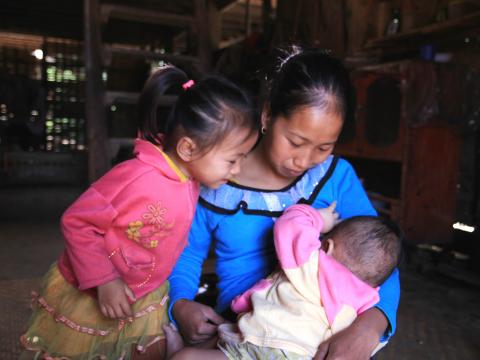 Breastfeeding: A key to sustainable development
Monday, August 8, 2016
A breast milk only diet with no other liquids or solids—not even water—for the first six months of a child's life is one of the most important interventions to ensure a child's survival, healthy growth and development.
Studies have shown that babies who are not exclusively breastfed in the first six months of life have a 14-times higher risk of death than exclusively breastfed infants. They also have a 10-times greater risk of death from diarrhea and 15-times greater risk of death from pneumonia compared to infants who are exclusively breastfed.
Unfortunately, only 40 per cent of children in Lao PDR are exclusively breastfed for the first six months of their life, according to national statistics.
That's why during World Breastfeeding Week from August 1–7, World Vision Laos took the opportunity to continue highlighting the importance of adequate nutrition for women and children, especially breastfeeding, with the public and government audiences.
"It is easy to provide breast milk for my baby because there is no need to boil water or clean the bottles," says Mee, a young mother from Phonethong district, Luangprabang Province. "I think my children are healthy because of the breastfeeding and I am healthy, too."
Mee is among a number of mothers who participated in World Vision health activities in her village. She learned the importance of breastfeeding for children and exclusively breastfed her baby, Airnoy, for six months.
"We can save money doing exclusive breastfeeding, too, and use the money to buy other things that our family needs," she adds.
Babies should be breastfed exclusively until six months old and then continue breastfeeding until at least two years old. Appropriate complementary and solid foods should be introduced at around six months of age in addition to breast milk.
Strong scientific evidence indicates that optimal breastfeeding of babies under 12 months could prevent approximately one million deaths of children under five years of age in the developing world.
The United Kingdom medical journal, The Lancet, reported, "If a new vaccine became available that could prevent one million or more child deaths a year and that was moreover cheap, safe, administered orally and required no cold chain, it would become an immediate public health imperative. Breastfeeding can do all this and more." 
The theme for this year's World Breastfeeding Week is "Breastfeeding: A key to Sustainable Development." This theme highlights the importance of increasing and sustaining the protection, promotion and support of breastfeeding to achieve the United Nations' Sustainable Development Goals (SDGs). The SDGs strive to end hunger, improve health and nutrition. Virtually every country around the world promotes breastfeeding of newborns.
Harmful traditional practices due to food taboos include feeding babies sticky rice juice instead of breast milk.
Mee, who only completed Grade 3 of primary school, attended the health training because she wanted to educate herself on raising a healthy child.
"I am interested to listen to what health officers are saying because I could not read well," Mee shares. "I learned about how to take care of myself during pregnancy and after giving birth. I also learned about the importance of breastfeeding my baby".
"My baby got nutrients from breast milk," she continues. "I eat vegetables, banana, papaya, pumpkin, and meat, as the health officer suggested." 
Apart from breastfeeding, Mee also started to prepare rice soup for her baby who is now six months old. "I learned that if we do not feed our babies properly, they might become malnourished I don't want that to happen so I try hard to prepare good rice soups as much as I can."
Mee is also a good role model who inspires other mothers in her community to learn from her. She helps World Vision promote breastfeeding in her village by sharing her experiences with new mothers.  Her baby Airnoy is the envy of most mothers in her village.
"When I see her baby, I also want my baby to be as healthy as Airnoy," says Mee's neighbour Bounmy, 17.  "So now, I start to attend the health activities and go to the district health center to have my monthly pregnancy checkup." 
Apart from educating new mothers, World Vision also supports district health officials to implement mobile clinics for immunization and health checkups every three months, train village health development committees on monitoring communicable diseases, mother and child health, as well as promoting good hygiene practices. 
"I received a tetanus shot and health checkups during my entire pregnancy. My baby also received full immunizations including polio, Hepatitis B, tuberculosis, and measles," says Mee.
"I know that the shots may hurt my baby but it doesn't take long. I believe it can prevent other diseases and make my baby healthy," Mee explains about bringing her baby to get vaccinated from the World Vision Mobile Clinic Team.
Mee is putting what she learned from the World Vision health project into practice. She delivered her baby at the district health center where World Vision supported a renovation and provided some medical equipment.
"I know it is harder to reach there, but I felt safe to deliver my baby at the district health center," says Mee. 
World Vision is working in 589 target villages, in five provinces of Bolikhamxay, Champassak, Khammouane, LuangPrabang and Savannakhet, targeting 25 districts where a total of 25 Area Development Programs (ADPs) are currently underway. It's estimated that more than 480,000 people in Laso are benefiting from World Vision's programs, including more than 208,000 children. World Vision's work focuses on improving mother and child health, education, food security and economic empowerment, and child protection and participation.