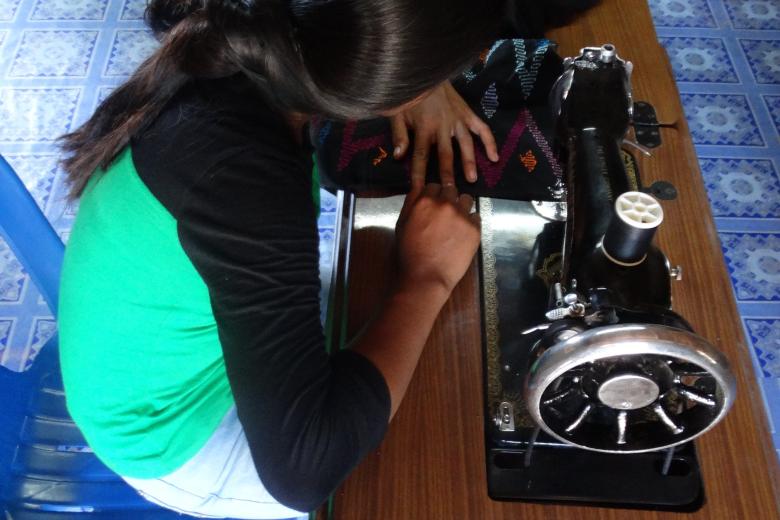 The broken dream – A story of forced labour
Friday, July 29, 2016
Human trafficking is the world's fastest growing global crime and the third most profitable organised crime after the trade in drugs and arms trade. An estimated 1.2 million children are trafficked every year for labour or sexual service purposes.
Laos is a source and, to a much lesser extent, a transit and destination country for women, children and men subjected to sex trafficking and forced labour. Women and girls, many younger than 18 years old, are exploited in Thailand's commercial sex industry and in forced labour in domestic service, factories, or agriculture.
Lao men and boys are victims of forced labour in Thailand's fishing, construction and agricultural industries. The Lao government reports foreign traffickers increasingly collaborating with local Lao middlemen to facilitate trafficking. Some local officials contribute to trafficking by accepting payments to facilitate the immigration and transportation of victims.
R-Sone, the eldest of five children, lived with her parents in the southern Laos. 
She was only able to complete grade three before she had to drop out from school because her parents could not support her.
At that time, at just 13-years-old, she decided to leave her village to look for a job in Thailand. She believed that she would earn a higher salary if she worked outside Laos.
"I heard from the broker said that I will get good money, and that money would be enough to support my family," remembers R-Sone.
R-Sone and four friends left their village together to meet the Lao-broker in a nearby village. There he hid them in a farm hut until a tuk tuk arrived to take them to cross the border by small boat to Thailand. They did not have any documentation.
After arriving in Moukdahan, Thailand, they were taken to Bangkok where they were sent to work in a plastic shop. After three days, R-stone asked for a different job because the shop was open very late.
She was transferred to a pork-grinding factory but was only there for a short time before a Thai-broker took her to work as a housekeeper.
"There were eight people living in the house. You can imagine how big the house was, it was very big and beautiful. I haven't seen a house like that in my village. The employer told me to do everything in the house like cleaning, washing, feeding the dogs, and gardening," said R-Sone.
"I woke up at 4:00 am and worked until 9:00 am when I stopped for a few minutes for breakfast. Then, I continue to work until 9:00 pm. I didn't have lunch because my employer provided only two meals per day. The food that I ate was leftovers from my employer and their children."
"I felt very lonely in this house, and scared. It was a big house but it seemed that no one was ever at home. I only saw them when they wanted me to do something for them. I missed my family at home," R-Sone shared.
"What strengthened me every day was my hopes and my dreams. I wanted to support my family back home."
Her employer agreed to pay her 5,000 baht ($148) per month, promising to send the money transfer to her family. She worked for three months before finding out through her cell phone that her family had not received any money. Her employer responded by taking away her phone. 
Unpaid and abused
As if not being compensated for her work was not bad enough. R-Stone was also physically abused by her employer. "She hit me," remembers R-Sone.
A good samaritan 
One day, when R-Stone was home alone, a Lao man passed by her employer's house. He told the girl that her family was trying to contact her and that her employer had told them she didn't work there anymore. Then he gave her a new phone.
When her employer returned, they asked if anyone had come by the house. R-Stone told them "no".
"After that the employer took me in the car. I didn't know where they were taking me. I was very afraid. Then my employer hit and slapped me, all over my body. They hit me on my head and pulled me by my hair onto the floor. I could not even open my eyes. After a few minutes, they tried to wake me up by throwing hot water on me. They did not bring me to the hospital. Instead, they forced me to continue working," said R-Sone.
Two days later, the police came to they employer's house. They took R-Sone away, with the support from the Lao Embassy.
Thanks to coordination between World Vision, the Lao embassy in Thailand and the Ministry of Social Welfare, R-Stone was able to return home. 
She was given training and a sewing machine. Today, she helps provide for her family through sewing. "I love my sewing. I can make many styles like sewing skirts, blouses, Lao-skirts. And I earn income for my family," said R-Sone proudly.
The Facts:
Human trafficking is the world's fastest growing global crime and the third most profitable organised crime after the trade in drugs and arms trade.

UNICEF estimates that 1.2 million children are trafficked every year for labour or sexual service purposes, representing half of the number of all people trafficked yearly.

79 per cent of all detected trafficking victims arewomen and children.

Although the percentage of women being trafficked is shrinking in the overall whole, the percentage of girls being trafficked is increasing, from 10% in 2004 to 20% in 2014.
It takes a world to end violence against children. It takes a world to end child labour.
Join us as we work to end violence against children.