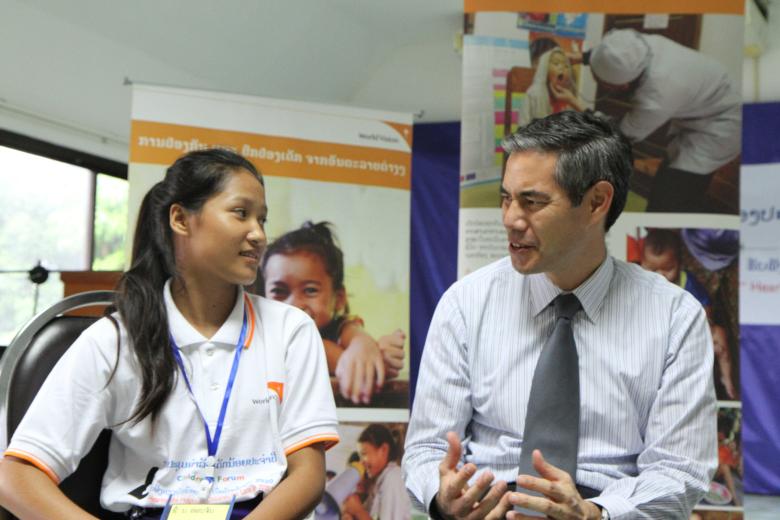 Children's Council Forum 2015
Friday, August 14, 2015
13 August 2015 - Twenty-two child representatives from across Lao PDR gathered to share their ideas and dreams for the future with friends, teachers, community leaders, government staff, and NGO and INGO partners in Vientiane at the annual Children's Council Forum.
This is the third year that World Vision held the event to promote child rights through listening to the voices of children.
According to the Convention on the Rights of the Child, children have the right to participate in decision-making processes relevant to their lives and the right to influence decisions taken in their regard. The participation of children contributes to a wide range of strengthening factors within the lives of children, including their self-esteem, hope, social and personal responsibility, and it also acts as a protective influence, reducing violence and substance abuse. Enabling children to be positively contributing to their own and their community's development helps them to be stronger, safer citizens now, and in the future.
"This is a significant event for children to speak out in public and express their ideas. World Vision in Lao believes that this is the best start for children. They are the next generation, and will help move Lao out of Least Developed Country status," says Vilasai Thammavong, Child Protection and Participation Manager of World Vision Lao PDR.
"I am very excited to participant in the event because it's a first time that I have visited Vientiane. I am very proud of myself for showing my talent in front of many people that I do not know. The event is great place for us to share our ideas. Our village still needs a clean water system. I will share my experience from the event with my friends and my parents who could not attend," says Linna, 13, who is studying in secondary school grade 4.
Children expressed their dreams and needs through conversation, role-play and more importantly, they used their photos which were presented at the Road of Children's HOPE to 2020 event.
"I feel happy that I am a part of bringing children to attend the Children Council Forum 2015. I am happy to see their confidence in sharing their talent and ideas. In the future I would like the children to have more chances to participate in events like this," said Mrs. Xong Fongmany, representative of education and sport office in Pakxeng Dristrict, Luangphabang Province.
"I am very happy and proud of our children. We should focus more on child development especially on education because they will be our nation's future," says Mr. Khamvanh Kongvongsa, representative of Rural Development and Poverty Eradication Office, Pakkading District, Boilikhamxay Province.
The children, who have been active in children's clubs and children's day village events, were selected by World Vision and their communities to be representatives. Parents, teachers and community leaders were involved in this selection. They youth, ages 10 -17, represented children from nine districts and four provinces.
World Vision has been working in Laos since 1968. We are currently one of the largest International Non-Government Organizations in Laos, with programmes in more than 600 villages across 25 districts in five provinces. Our work has benefited to over 200,000 children across Luangprabang, Bolikhamxay, Khammouane, Savannakhet and Champasak. Our work contributes to achieving the Millennium Development Goal 1, "eradicate extreme hunger and poverty", Millennium Development Goal 2 "achieve universal primary education" and Millennium Development Goal 4 "reduce child mortality".