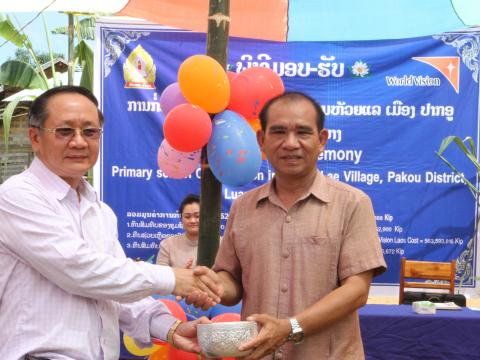 Children in Huaylae village enjoy new school building
Thursday, September 15, 2016
Through the cooperation between World Vision Taiwan, World Vision International in Lao PDR, local authorities, and community parents, the construction work of a new primary school building was completed and handed over to PakOu District Education Office and community partners on September 13th, 2016.
The students, teachers and community parents were happy and excited joining in the primary school handover Ceremony.
"I wake up early morning today for helping on school preparation and decoration for the handover. I bring natural flower and banana tree for the ceremony, and I participate in Lao traditional dance," said Dam, 12 years-old.
Mr. Outhing Phandaluck, the Vice District Governor of PakOu and District Committee for Area Development Programme Implementation, offered his sincere thanks to World Vision International in Lao PDR for seeking the funds to support the social economic development implementation plan in the district, especially improve quality of education in PakOu district.
"The new school building is very necessary for motivating children to go to school. Children will also learn better in good environment and safe space," says Mr. Phandaluck, at the handover ceremony.
"It was difficult for the school children to learn during the rainy season because [the roof] was leaking," Daochit primary school teacher shares. "We had to stop the class and let children go home when it winded and rained." The old school building was built using bamboo with a grass roof.
Improving the quality of education is a priority for World Vision's work in Lao PDR. In 2015 World Vision worked in partnership with the local government and World Vision Taiwan to support the school building construction in Huaylae village. The school building now contains 5 classrooms with student tables, teacher tables, cabinets for documents, and three toilets.
According to a UN report, the construction of complete primary schools has enabled many more children to go to school. The proportion of complete schools rose from 48 per cent in 2007/08 to 80 per cent in 2015 of all primary schools.
"I believe the new primary school building can encourage more children to go to school and increase learning outcomes in the new learning environment," Daochit added.
"We have waited, to see the completion of the new school building and send our children and grandchildren go to school," shares Khouy, 48, on behalf of the villagers. "We don't have to worry about their safety when it rains."
Children sat down to learn in their new school building on September 5th, 2016.
Mr. Or-Lachith, the Chief of Huaylae village, is committed to taking ownership, leading villagers to maintain the school building as one of their own properties.
"On behalf of villagers, teachers, and school children, I would like to thank donors and government partners who contributed to make this school build. We are committed to maintain it well and encourage parents to send and keeps their children go to the school," says Mr. Or-Lachith at the opening ceremony.  
Mr. Singthong Silapaseuth, Zonal Manager of World Vision Coordinator Office in Loungprabang credited the financial support through World Vision Taiwan as well as a strong support from government and community parents in making this effort a success.
World Vision International works in five provinces in Lao PDR. Recently, World Vision has provided technical and financial support to build 25 and renovate 19 schools buildings in Lao PDR.