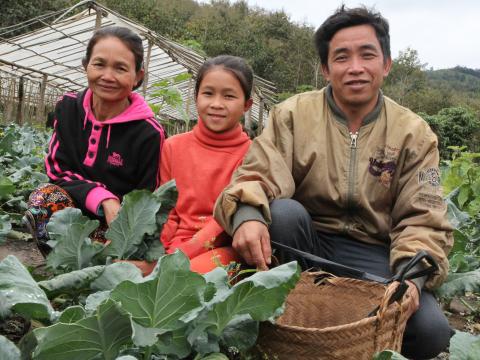 Crops in the spotlight: better techniques, better results
Friday, June 16, 2017
In the northern part of Laos, the terrain is covered in luscious green mountains. They are photographed by thousands and admired as a natural treasure.  
If you looked very closely, you could see bamboo baskets moving throughout the forest, slowly being filled with wild vegetables, fruits and herbs by girls, mothers and grandmothers.
When they are not in the forest, they are with the men working their rice patties in the mountains with steadfast labor that will merely be reflected in the harvests. 
"We have to climb for an hour. When we finally reach our rice field – a dry and rocky patch of land located in the mountains – we work tirelessly. The land doesn't produce much, but it is all I have to provide for my wife and two children," said Khamxay Xaysounthone, a father.
He's in the same situation as most farmers in Laos; his crops provide enough for his family, but never enough to sell in markets. The agriculture sector, which dominates employment in Lao PDR (70 percent of all employment), needs to improve its productivity, which in 2010 was 4 to 10 times lower than that of the non-agricultural sectors.*
But one day, Khamxay was invited to participate in a home garden training session.  
At first, he was bored– he usually worked outside and it was hard to sit in a classroom all day. He doubted what he was learning.  However, the more the trainer talked about growing lettuce, cucumbers, long green beans, garlic, onions and other new vegetables, the more he became interested. When he was taught how to grow vegetables during the rainy season, Khamxay couldn't believe it. He had never been able to do this before.
"I had been growing crops the ancient traditional way and the results were not good. With only one harvest per year, my family's annual income wasn't exceeding 6-7 million kip per year," Khamxay says.
"I have learned a lot from the training season; how to prepare the soil, prepare the new seeds as well as grow, care, monitor and protect crops. I've also learned how to make and use organic fertilizer," Khamxay shares.
He became eager to try these new farming techniques. World Vision gave Khamxay a water pail, eight different kinds of vegetable seeds and a plastic cover to shield the roof of a vegetable hut for his family to grow produce in two seasons. He quickly got to work.
Khamxay's 13-year-old daughter Sikhai loves helping her parents work on the home garden and adores seeing the plants blossom. 
"Vegetable soup is my favorite dish, to eat and cook! My parents told me I make a delicious vegetable soup and they like when I cook for them. I am very happy when I get the chance to eat with my parents because usually they are away working in the farm," Sikhai says.
Khamxay's first vegetable harvest proved to be everything- and more. He had enough for his family and earned 12,000,000kip ($1,500) at the market during the rainy season, and 20,000,000 ($2,500USD) during the dry season.
With his new found confidence, Khamxay started raising chickens and ducks. 
Today, this family has a successful farm that provides enough for themselves and even more to sell in local markets. The money earned is enough to turn their backs on difficult mountainous terrain.
"My children go to school having eaten a healthy meal for breakfast- that's the most important thing me," Sikhai's father shared appreciatively.
-End-
*** MDG's and Lessons Learnt for the Post-2015 Period: A Summary Review