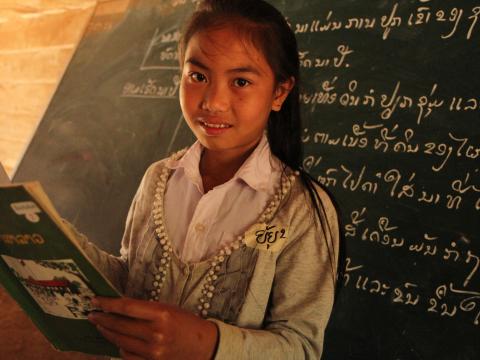 Education for girls - Sending a rural girl to school
Monday, October 3, 2016
Youi is a 12-year-old girl who lives in a mountain area in central Laos. Her village is a two-hour drive from Nhommalath town by car that goes up and down dry, rocky roads. It's even harder during the rainy season since cars can't pass through the washed out roads. At that time, the only way to reach Youi's village is by walking.
"Even if the road is difficult to access to my village, I love my village's nature, especially the mountains," Youi said.
Access to education, especially for young girls, was another challenge in Youi's village because of financial reasons.  Many people in the rural community, like Youi's parents, depend on growing rice for income.
"Some years the harvest was good but some years it was not good," explained Youi's mother Phouth, 34. "Some parents  did not see much importance in education for their children, especially for girls. Many girls had to drop out of school to help their parents work on the farm."
People living in this community still rely on nature, especially to find food like bamboo shoots, wild vegetables, and fish from the river, or catching rats in the forest.
"The children were shy and not interested in their studies," said Bou Keosypasuerd, a primary school principal. "Our teachers also teach with their old style and there were fewer students attending school."
World Vision's work in the community raised parents' awareness about the value of education for their children.
"In 2013, World Vision conducted training for the village's education committee and students' parents on how to prepare their children for kindergarten school, and to encourage and support their children to learn to write and read," said Vatsanaphone Arnulack, a World Vision education transformation facilitator.  He added that 267 village education committee members and parents and 111 children participated in the program.
World Vision also provided materials to repair schools, including 63 boxes of nails and 253 sheets of zinc worth 6,070,000kip. The organization raised awareness about the value of education in 14 villages and provided training on how to manage a school to 17 school principals.
Village chief Mr. Visian, has noticed improvements in his village since these changes were made.
"Now children are more interested in coming to school and their parents also see the value of their children's education," he said. "They give good support and monitor their children going to school every day. In our village, 100 per cent of children who are of age to school attend school."
"The students actively joined in child sponsorship activities like drawing, writing replies from sponsors' letters and playing games that were conduct by World Vision staff and government partners. Those activities changed some of the children's behaviour," teacher Bou shared with a smile. "They used to be quiet and then became more active and gained more confidence to talk in front of people, especially Youi. Now she is more confident in herself and her studies have improved. She became a good student in class and got high scores in each term."
Youi sees that her confidence has improved too.
"I like to study in groups because I can discuss our lessons with my friends," said Youi. "If we didn't understand, we can ask the teacher to explain it for us again. Before, I was afraid to ask the teacher when I did not understand something."