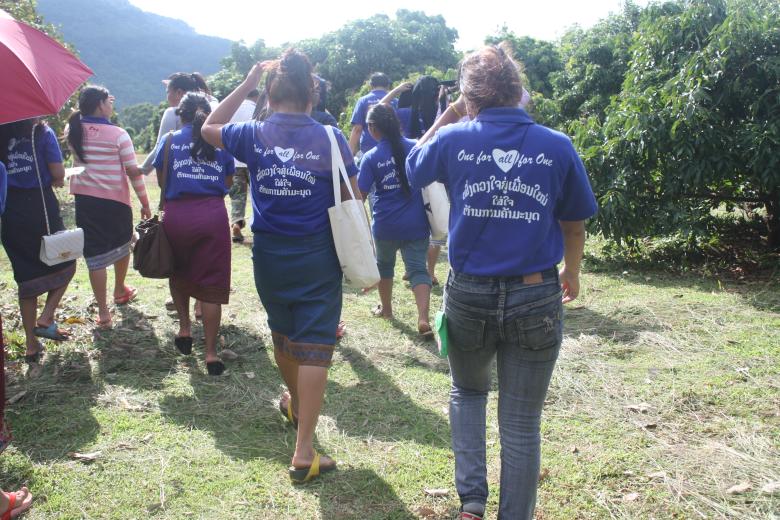 An emotional return home for human trafficking survivors
Monday, December 7, 2015
"I missed you my beloved daughter, said my mother as I ran into her arms, tears streaming down my face," Sorn (not real name) shares.
"Every day, I had to sell cucumbers, pineapples and vegetables for my traffickers. I worked in Thailand for 3 years without work permits and pay. I worked from 7:00 AM to midnight every day for 3 years. No days off and no free time. At 11:00 PM every night, I would be given my only meal of the day," she says.
"Returning home brought a warm feeling within me and gratefulness to be able to see my mother and family again," Sorn says.
"My father hadn't allowed me to leave. I asked both my parents' permission when I was 16, but they refused. When my father went to tend to the cows, I left with my friends for the border and crossed with the hope of working to help my family. We were poor, with barely enough rice to eat and a home that was falling apart; I wanted to help. The broker I met told me I would receive a good salary that would help my family. However in the end, I was found with a broken dream, no way to help my family and in trouble," Sorn says.
Sorn and her cousin were finally able to escape. They approached the police, and were sent to KorKed Center for a year, where human trafficking survivors learn valuable skills, before going back to Laos.
Now 21-years-old, she is completing grade 4 of primary school in the province of Salavan.
Sorn is also one of the participants who joined the trafficking prevention programs.
"This event was a great success for human trafficking survivors. Such an event builds awareness, teaches them how to protect themselves and helps them identify their strengths and weaknesses. The lessons they have learned from this event will help them succeed in society and hopefully allow them to learn and improve," said Mr. Thongphone Oudanith, deputy office of the Savannakhet Provincial Labour and Social Welfare Department.
"I was very happy and grateful to join the human trafficking survivors' events in the province of Savannakhet. It was the first time I got to join activities like this and meet other people from different places that were facing the same problem. It made me feel good. I will use the lessons learned from these activities in my daily life and share with my friends," Sorn says with hope.
"I have learned about the dangers of human trafficking, from the dangers of working without the right documentation to recognizing signs of abuse from employers who refuse to pay employees," she adds.
Sorn recently finished taking sewing classes at Village Focus International, an NGO that works with vulnerable communities to give them valuable skills and knowledge to be independent. World Vision provided Sorn with all the sewing materials necessary to set up a small business in her home.
"I would like to thank my sponsor who helped and supported me. I will try my best to make a better life for myself and make my dreams come true," she added.
Child protection and participation are central to World Vision's work as a child-focused organization. The legal framework in Lao PDR supports both child protection and child participation. Lao became a signatory to the UN Convention on the Right of the Child in 1991, and National Decree Number 4 (2007) provides for the Protection of the Rights and Interests of Children.
World Vision actively works with its partners to protect children throughout the country. According to a recent Lao Social Indicator Survey (2012), 76 per cent of children have experienced violent discipline and hundreds of children continue to be victims of exploitative labour and human trafficking.
World Vision Laos is working towards systemic change, which requires both changes in community behaviors and institutional strengthening.