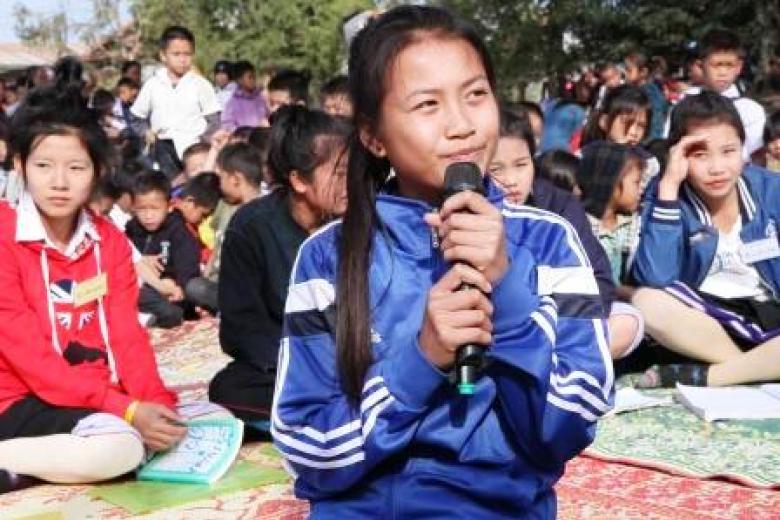 Empowering youth to prevent human trafficking
Monday, January 12, 2015
The End Trafficking In Persons programme (ETIP) of World Vision Lao is working to empower young people about the dangers of trafficking and with knowledge about ways to stay safe if they decide to migrate for work in another country.
 "Child-Youth Club is very important. It is teaching life skill for children and youth," says Mr. Somchit Thinsephon, Deputy Unit of Preschool and Primary School, Outhomphone district.
 "We could not stop children and youth from migrating for work. So it is necessary to build their life skills, in order for them to be able to protect themselves from risks, says Kaysone Maykhambou, Project Manager, ETIP, World Vision Lao.
 There are an estimated 200,000 Lao employees working illegally, according to figures from the Thai Ministry of Labour.
The United Nations Action for Cooperation Against Trafficking in Persons (UN_ACT) warns that illegal migrant workers are always at risk of becoming victims of human trafficking as they have no information as to where they will work and are liable to be deceived by potential employers.
According to a research study just release by World Vision, it was found that more than a third of all children and youth who had previously migrated for work, said that they had endured at least one of the following negative experiences: excessive working hours, debt used as a form of control by the employer, withholding of wages by the employer, physical or mental abuse, or dangerous working conditions.
Among Lao children and youth, 2 out of 3 that had migrated had endured at least one of these negative experiences.
Importance of awareness and education
'There were some people who tried to persuade me to work in Thailand with good pay. But, there were only few months of the school break, so I decided not to go," said Buavanh, a 14-year-old girl, who studies in grade three of the secondary school.
"Before attending Child Club, I did not know what human trafficking means. I used to think it is good that we have people who help us find jobs. We could earn and help our family," she adds.
In Buavanh's family, her aunt and uncle had someone deceive them to work illegally in Thailand without pay. Luckily the police were able to help them return home safely.  
"I learned about safe migration, the forms of human trafficking, and how brokers can deceive us- like offer high salary, giving money in advance to our family, and preparing travel document for us, etc…" she says.
"Child Club is very useful for youth and people in our village. It helps make people more aware; especially many people in our village who do migrant work in another country. I think teaching them about the risk before they leave will help them make good decisions and identify risks," says Khamtan, the Phonetoum village chief.
 In addition Child-Youth Club also teaches children about how to negotiate with an employer to receive a fair wage, the importance of keeping in contact with family, and how to save and transfer money back home.
Currently ETIP in Lao implements Child-Youth Club in 20 villages. The activities take place once a week. In addition to the prevention program, World Vision also works with victims of human trafficking by provide counseling services, support with vocational training, and guidance on establishing a small businesses.