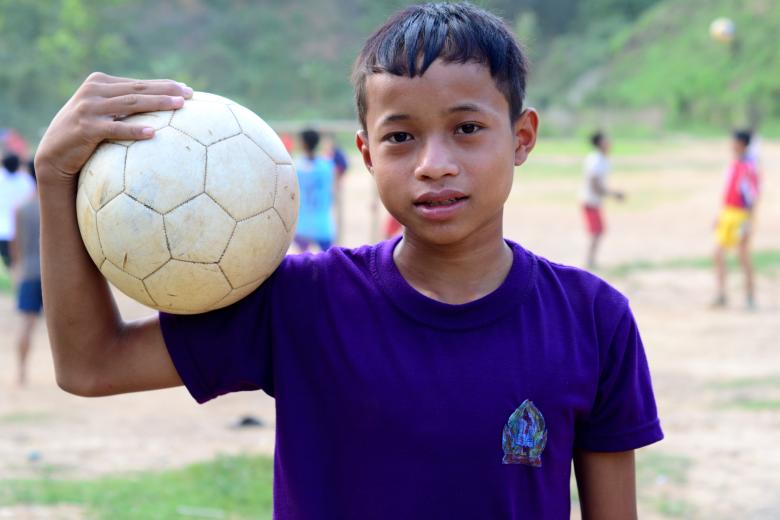 Football inspiration from a boy who won't be watching the World Cup
Friday, May 30, 2014
Story by Mark Nonkes and Xay Thongxay
As the final hour of school winds down every day, 14-year-old Ka is already planning his next move.
They're tricks, he says, tricks he's seen the professional football players do on TV.
"They know how to control the ball, keep it to themselves until the right time to pass it comes," the Grade 6 student explains.
Every day, matches kick off just after the final bell rings and are played until it's too dark to see. Boys in their teens tear up a dusty field, chasing the ball, chasing a dream.
"If you're a football star, you can make a lot of money and be famous," Ka says.
The football stars Ka talks about are from the few times he's watched TV. His family, who earns income from rice and corn farming, is too poor to own one. The few football matches he's seen televised have been shown at the school dormitory – a place he moved to this year.
In this remote northern Laos community, children who graduate from Grade 5 and are able to continue school are sent to the nearest town – in Ka's case a village some 20 kilometres away – where a secondary school offers a dormitory constructed of bamboo.
"In the Lao countryside, children from poor families rarely finish their education. Many drop out before completing Grade 5," says Thasphorn Butsaling, a World Vision education manager working in Vientiane.
Only about 30 percent of school aged children are actively attending secondary school in Lao, a UN report concluded.*
Ka is barely at school himself. His parents have asked four of his older siblings to drop out of school – their annual income not enough to support their education. Only Ka and his sister, who is in the same grade, remain in school.
"I have to finish my education," Ka says. "It will provide me with a good job in the future."
Every weekend, Ka and his sister return home to help his parents in the fields by pulling weeds or collecting firewood for the evening's cooking fire.
"Sometimes I feel sad because my parents cannot support me," he says.
Instead, World Vision stepped in to support Ka's education, providing him with the necessary tools for learning, such as books, pencils and pens. Ka has also benefited from World Vision's education initiatives in his community; The primary school he graduated from was constructed thanks to World Vision funding and the teachers who taught there were trained about engaging teaching methods to enhance student learning.
Being in school allows Ka to play football nearly every night, his main source of joy.
"Playing sports makes me feel peace both mentally and physically. I feel solidarity with my teammates. Plus, I think it makes me become more healthy and more clever," Ka says.
And while Ka is fascinated by football, he believes his future should be in policing. That job is what motivates his studies after the sun disappears, and the daily football ritual becomes a memory.
"I would like to help country," he says. "I want to be a great man in society. And I want to earn a salary."
* statistic from: http://www.ungei.org/gap/reportPacific.html