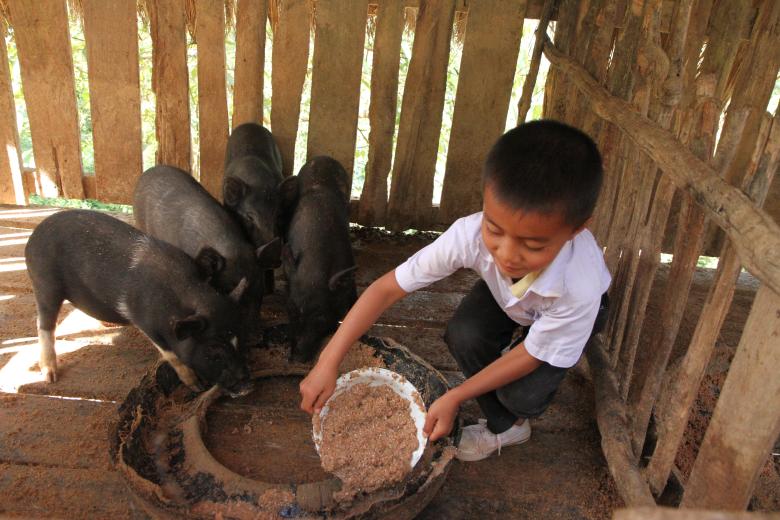 How 4 pigs made a difference
Monday, January 18, 2016
Imagine being a full-time volunteer teacher with your spouse and trying to raise a family. 
"Both of us came from another village to be volunteer teachers in the community for two years. We didn't have a salary. My family suffered when the rice harvest wasn't enough for the whole year. I was constantly worrying about my children's well-being and thinking about whether or not we could afford school uniforms and materials for them," shares 33-year-old Phaly.
Her village is in the mountainous area of XiengNgeun where 101 families live. Rice farming and animal raising is the main income generator for these families. Phaly and her husband not only teach, but raise pigs together to support themselves and their two sons.
Sometimes they had to rely on the generosity of their neighbors for rice when the harvest was not sufficient.
"Our income used to be low because we worked as volunteers and only had 2-3 pigs to raise. We would only get about 3 or 4 million kip (US$ 375-500) per year for the pigs because we didn't have a capital fund or the necessary technical skills to raise them properly," says Phaly.
"In 2003, World Vision Xieng Ngeun's Area Development Programme partnered with the government to begin agriculture activities that would help communities overcomes the lack of food and low family incomes. At first, World Vision supported the construction of a primary school, co-funded the construction of a water system, medicine cabinet, rice bank and village development fund, latrine fund and the construction of a village hall," said village chief Bounlouang Keo-Ou-Doum.
"In 2004, they started an animal raising fund that provided 44 families with livestock. Farmers' income was growing before their eyes. Facilitators from provincial animal raising units were invited to provide technical skills training to villagers to maximize the success of this initiative."
The work didn't end there.
"In the first 6 months of the program, we provided animal raising training for 614 farmers in 15 target villages. In addition, our ADP provided 6,000 kg of paddy to 3 villages with vulnerable families who experienced rice shortage. Follow-up monitoring showed that 2203/2484 households from 16 villages reported year round access to sufficient food for their family," said Khamxer Yang, World Vision's Transformation Development Facilitator for food security.
Phaly's family is among those who benefited from the training.
"I learned a lot about raising pigs, from building them houses, to vaccinations, food and health risks. After receiving the training, I acted immediately," says Phaly.
"In 2008, my family and I borrowed money from the village animal raising fund implemented by World Vision. With a 3,000,000kip (US$375) loan, we were able to buy 4 pigs for breeding. In the last year alone we sold 16 pigs for a total of 22,000,000kip (US$2,750), while still keeping 12. This big income has allowed my family to live more comfortably and support my children's education," Phaly added.
Today, Phaly and her husband continue to teach in their community. Their small salary and the money made from raising animals is now enough to provide for their family. 
"I am very happy to have many pigs at home. I always help my parents feed them in the morning, after school and on the weekends," Phaly's youngest son Bandit shares.
"I plan to raise more pigs in the future so that I can continue supporting my children's education until post-secondary. I dream of seeing my children capable of supporting themselves and their families one day. Thank you World Vision and the government for supporting my family and my community," Phaly says appreciatively.