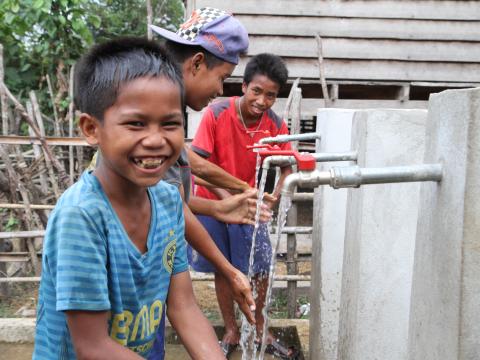 How to improve clean water systems in the community
Friday, May 5, 2017
Just a few years ago, every morning Vanna, 13 years old, and his mom Vone, 45 years old, would wake up early to fetch water from the well. If you arrived at the well too late, there would be no water left because there was not enough water for the entire community.
"Sometimes we woke up at 4:00 am, but there still wasn't enough water for our family to use," said Vone.
"I felt tired when collecting water, but I had to do it. I wanted to help my parents. They both work all day on the farm and get back late," said Vanna, a primary school student in Grade 3.
The work didn't end there. Firewood needed to be collected in order to boil the water so his family could use it for drinking, cooking and washing.
This hard working boy lives in central Laos with his mother and father. He has five siblings, three of which are married. In Vanna's village there are 95 households and 104 families.
Vanna's family relies on nature for their income. They grow paddy and the family also forages in the forest for crabs, bamboo shoots or wild vegetables to sell at the market.
"Three or four days each week I walk around 4 kilometers to the market to sell my vegetables. I only earn between 20,000 to 30,000 kip (about $2.50 to $3.75 USD). If someone gets sick, we do not have much money so I worry about my children's health," Vanna's mother shared.
From 2015 to 2016, World Vision partnered with the Xaybouthong District government, to conduct training and support villagers with their water and sanitation issues. World Vision provided with materials to build a water tank system.
A total of five water taps were installed, drawing from a big tank to the village and this water tank system is beside of the village and the community can use the water year-round. They called community water system or water tank system.
"I no longer have to walk far or get up early to get water. I have more time to help with chores around the house like washing dishes, watering the home garden and feeding the chickens, and have more time to prepare myself for going to school," Vanna said.
"There is enough water for everyone in the village," Vone shared.
"Our village is really different from a few years ago when we were faced with a lack of water. Water collection was a difficult task placed on women and children," said Vongdeun Sysavath, the village chief.
Clean drinking water has meant improved health across the village.
"My family and I are very happy and thankful for the clean water system they helped builds in our village," Vone added.