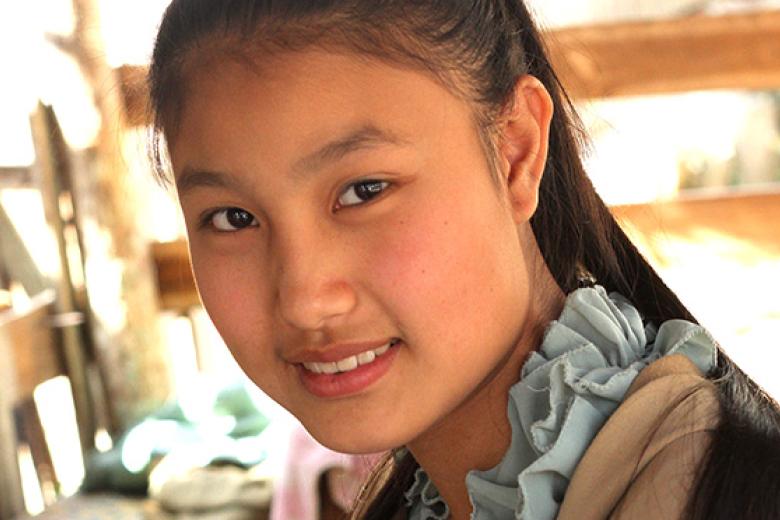 Improved education quality
Friday, August 1, 2014
Despite the cold temperatures of a Lao winter day in the country's northern hills, the room was filled with heat.
Ladsamy's face turned flush, sweat trickling down her cheeks as she wrote furiously at her desk.
The 15-year-old girl was among 18 students scribbling answers to the same questions. They were all the brightest from the area's surrounding schools – this competition would determine the best.
"I was very excited before I got into the examination room. I was worriedabout so many things, but finally I tried my best to pass all my challenges," explains this World Vision Singapore sponsored child.
After the test, Ladsamy waited anxiously for the results.
"After I got out from the competition examination room, my heart really felt free and I believed in myself that had done my best and confidently I will get the competition," says Ladsamy, the youngest of three children in her family.
Soon, she learned she'd won the competition.
"I was very happy that I had a good opportunity to getthe highest score at the competition withstudentsat the District level with 6 other schools around Xiengngeun District and I got the first among them in the Laosubject and literature subject" she says.
By winning, she qualified for the provincial championships.
"I dream of continuing to get a higher score at the competition withstudentsat theprovincial level and as well as at national level, but I have to study hard and I will do my best. This subject is very important for Lao-people should know it well,"she says with smiling face.
Education is central to poverty eradication. It was identified as a key focus area in the Lao Government's Growth and Poverty Eradication Strategy.
Her parents say,"We are very happy that our daughter will go to a higher competition of studentsthan at the District level. We did not expect that she would be the one who would win the game because in the past her study habits were not really bad but she was a silent student in the classroom."
A few years ago, the education levels in Ladsamy's village were very low.The school building was in disrepair, school furniture was non-existent,as well as other essential education materials, and teachers lacked skills that increased learner participation and comprehension.
In Ladsamy's village, families also had lowincomes. They often didn't have enough food and didn't have enough rice. A largely farming community, families planted the rice as usual, but the harvest was low. This meant many students were absent from school and when they were there, showed little interest in their studies.
"My daughter also was not interested with her studies before. She just wanted to go and play with her friends.  When she came back home from school she was not active to study by herself at home. It seems education was not important for her. It's not only my children but also other children in the village from my observation," says Ladsamy's father Mr. Sonevixay, 50.
World Vision emphasized the importance of educating children from a very young age and used strategies to strengthen children's learning abilities.
"Education is not only a powerful tool in providingimproved earning opportunities; it also plays an important role in improving health and social well-being outcomes," says La Chansanith, World Vision's education officer in Xiengngeun.
In 2006, the World Vision Xiengngeun Area Development Programme implemented an education program.As a part of the program, World Vision provided and conducted training teacher skills to improve on teaching skills.
World Vision also constructed a new secondary school in Ladsamy's village and also provided school furniture, school equipments and books for studying.
"I am very happy that we have new school building instead of our old school builtof bamboo and I also enjoy the new learning methods from the teacher," Ladsamy says with a smile.
As a sponsored child, Ladsamy also received school equipment from the project such as a uniform, school bag, pens, notebook, and a study book.
Beside those benefits, Ladsamy's family and other families in the village also received benefit from other activities such as paddy rice bank, clean water system, livestock and a village development fund for community saving and loans.
"Our dream for Ladsamy, we want her to become a teacher in the future," her parents say.
"The children in the village were more interested in studies and going to school regularly now. And the parents are also aware and value education of their children now and want their children to at least complete secondary school," says World Vision's La.
"The biggest changes that I see from these childrenare before they were very shy, not active to participate in the activities, they could hardly understand when you said some things and they did not want to go to school. The changes?They are improved, more confident to talk in front of many people, able to share during activities and they are active with the questions and answer when you ask them because they join many activities in school," says Onsy, 30, a village child sponsorship worker.
"My dream is I want to be teach, Ladsamy says.
"I would like to give a thank you to World Vision, its donors and the government district authority that provided good support and helped us have a better life" Ladsamysays. "I will try my best to achieve my dream as well as my parents dream."