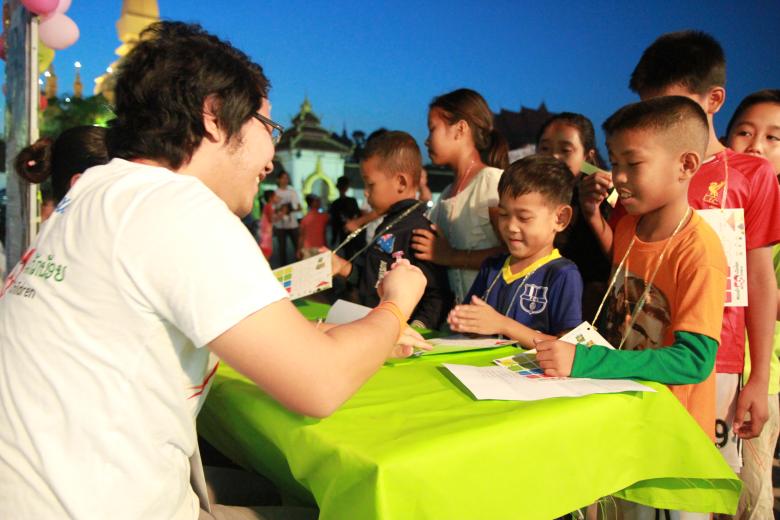 Joining Hands to Create a Learning Space for Children at ThatLuang Festival
Tuesday, November 11, 2014
More than 1,000 children learned about children's rights and how to protect themselves during last week's That Luang festival in Vientiane after attending a child learning space run by multiple child-focused international and local non-governmental organisations.
At ThatLuang festival, World Vision Lao joined hands with UNICEF, Save the Children, Room to Read, ChildFund, PADETC, and Learning House for Development in organising an interactive and creative outreach activity for children to learn about their rights.
"The booth's name was titled We Love Children but it aimed to promote child rights and participation of children," said Nila Douanesouvanh, Communication Manager for World Vision Lao.
During the four days event, from November 3 to 6, 2014, children participatedin an adventurous learning process through question and answer stations and by doing various activities.
"I learned about the right of protection. Now I knew that parents and adult have the role to protect children from drugs, diseases and alcohol," said 9-year-old Ning from Sistanak district who participated the activities for two days.
"After last night, she asked me to come back again. I also found it's useful so today I brought them back," explained Ning's father Chanthai.
"It is wonderful to see so many children and their families have fun while learning about child rights.   Though not often talked about, children in Lao face violence on a regular basis.  The recent Government of Lao Socio-Economic survey reported that 76% of children aged 2 – 14 are affected by violence.  We are pleased to see that at the heart of the That Luang children are celebrated." says Amelia F Merrick, National Director of World Vision Lao.
The event created the opportunity for more than 30 staffs from the eight organizations and 50 volunteers from National University of Lao, PADETC, Nor Mai, the Lao Rugby Federation and Flames to work together. The staff and volunteers taught children about basic child rights through question and answers, drama, songs, drawing, colouring, reading, sports games and, even, how to separate trash in different trash bin to promote recycling.
While children participated in different activities, a waiting space for parents allowed them to read about child rights and child participation related various materials.
"I found it is useful, because most of the booth in Thatluang there are commercial. We should have space or activity for children to participate and learn and enjoy" says Vandy, a villager from Nongtha village, who bring her children to participate on the activity.
The booth was run by the Communication Working Group whose members include World Vision Lao, Save the Children, Room to Read, ChildFund, PADETC, Learning House for Development and Plan International, with support from UNICEF.
Thatluang is the biggest traditional festival in Lao that happens once a year. The weeklong spiritual celebration takes place at the Thatluang stupa. Thousands of Buddhist monks come from all over the country to pray together and asks blessings for the country.
The Communication Working Group, whose members include World Vision Lao, Save the Children, Room to Read, ChildFund, PADETC, Learning House for Development, Plan International, and with support from UNICEF, see this event as an opportunity to advocate for child rights in Lao. In Lao PDR, 76% of children ages 2 to 14 are subject to at least one form of psychological aggression or physical punishment from an adult in their household.
The We Love Children event at Thatluang is just one event, part of an advocacy series, to remind the senior government leaders about their responsibility to child rights and to educate children. Lead by the UN, there will be more activities happening throughout November to celebrate the rights of children in Lao.
The Lao government signed the UN Convention on the Rights of the Child 1991. The Convention is celebrating its 25th anniversary this year.