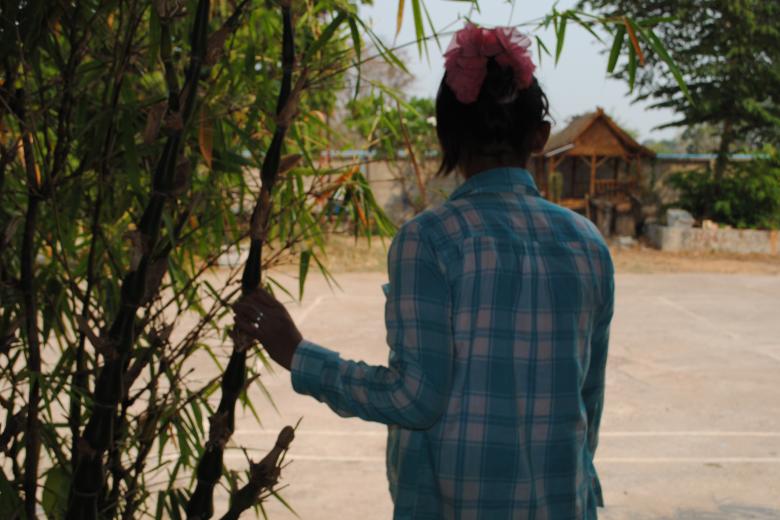 *Khamsieng is happy working in her own country
Wednesday, June 10, 2015
Earning just $70 a year, Khamsieng's story is a sad reminder of the reality facing many young Lao people who travel to Thailand with the hope of earning a decent salary. Khamsieng hoped to save money to help her family build a house.
In early 2004, when Khamsieng was 15, a broker came to her village looking to recruit young men and women to work in Thailand. He made promises of high wages with accommodation and food provided by employers. He would cover any costs of getting to Thailand.
At the time Khamsieng's family urgently needed money for their house so she and her friend decided to go to Thailand to earn money for their families.
They were taken to be housemaids where they had to cook, clean, do laundry, and occasionally work on a rubber plantation. They received a fraction of the money they had been promised – receiving around US $70 a year for their labour. The rest, they were told, was being deposited into a bank account for them.
Khamsieng soon became suspicious and realised that she would never be able to send money to help her family back in Laos. She knew if she had stayed in her village, she could have helped them more by working on the family farm.
Her working conditions were harsh – her employers regularly shouted abuses at her and did not let her rest when she was sick. Yet Khamsieng knew she could not just get up and leave as the house was guarded day and night.
Khamsieng stuck it out for eight years, saving what she could so that she had enough money to pay for the bus fare back to Laos. The tipping point came when she became seriously ill and her employer insisted she keep working. Khamsieng knew it was time to go and escaped by to climbing a tree near the perimeter wall in the middle of the night. She walked nervously to a nearby train station; constantly worrying her employer would find her and force her back. She took a train into Bangkok before getting on a bus to Laos.
When she reached Laos, she received help from the government and was put in touch with World Vision's anti human trafficking project. The project helped her to return to her village and reunite with her family.
She was also offered training and World Vision helped her find job. She now works at a local guesthouse where she earns enough money to be able to help her parents. Khamsieng finally feels safe and has hopes for the future. She wants to learn how to sew as that will open new job opportunities to her. Since 2008, World Vision assisted in the rescue of 127 children and young adults and provided reintegration services.
*Khamsieng is not her real name.