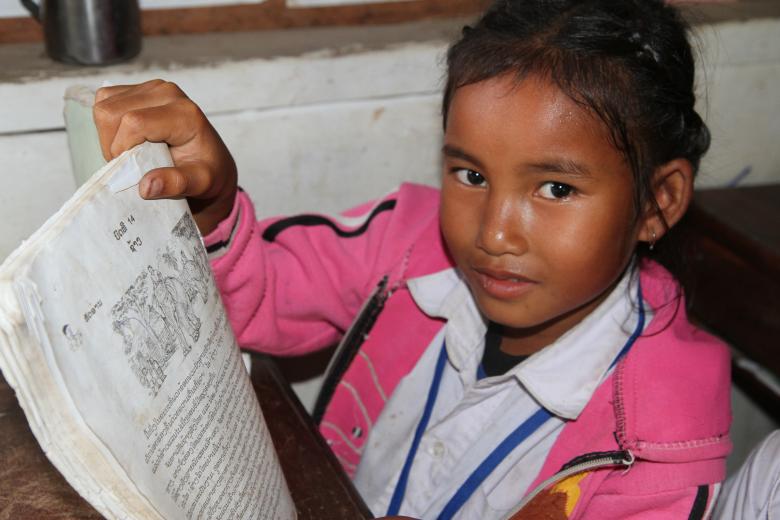 Kongnang says thank you to the pineapple project
Friday, January 23, 2015
Kongnang, 10, grade 4, enjoys playing jump rope with her friends on the school playground. Lao language is her favorite subject in class.
She lives in a village that is surrounded by rice fields and forest. During our visit, the landscape was shades of yellow surrounding the village because it was rice harvest season.
It's about 2 km from the village to school and Kongnang wakes up early in the morning to prepare for school. She enjoys riding her bicycle there everyday.
On the weekends, Kongnang helps her parents look after her younger brother at home.
World Vision helped Kongnang's family and other families in her community to have a better life. Kongnang's grandfather was invited to join a pineapple project training session.
"I learned about how to grow pineapples. Thanks to the government and World Vision, I was given a chance to join in this session," says Kongnang's grandfather Zen, 78.
After World Vision training, 10,000 pineapple seeds and 50 bamboo shoot seeds were provided to Kongnang's family. They grew on a more than hectare of land. In addition to Kongnang's family, World Vision also provided seeds to 20 other families in 7 villages.
"The pineapple takes around 4-5 months to grow the product, then wecan sell it at the market or to our neighbors. Last year in one harvest we were received more than 5,000,000 kip (USD$625)," said Zen.
This income was used for basic needs such as medicine and food. Additionally, the money supported the education of Zen's grandchildren. They bought new school uniforms, school materials, and even a bicycle to get to and from school. There was enough money leftover to repair their house too. It was a good harvest.
Just a few years ago, they did not have a regular income.
"Our income came only from daily farm labour or from foraging for and selling wild vegetables," Zen reflects, "I was worried about how I could support my grandchildren."
"My dream for my grandchildren is that I want to see them complete their education and get a good job and care for themselves," says Zen.