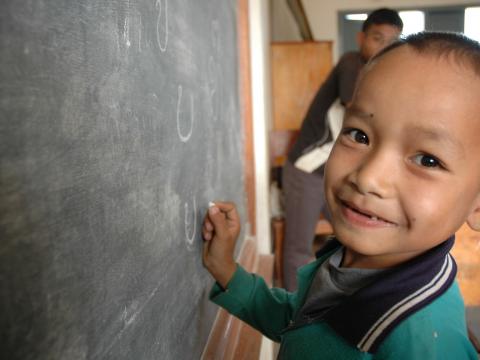 Literacy is a foundation of learning and builds sustainable development
Thursday, September 8, 2016
September 8 marks the 50th International Literacy Day, a day that reminds us all of the importance of literacy as a human right and a foundation for learning.
While literacy levels in Laos have improved steadily in recent years, some key challenges still remain in ensuring that everyone has the literacy skills that will allow them to fully participate in the development of their community and country. 
According to the most recent Lao Social Indicator Survey, three key issues affect literacy levels in Laos: ethnicity, gender, and location.
Nationally, 83 per cent of households with a Lao-Tai head of household are literate, compared to 52 per cent of those that do not have a Lao-Tai household head. This highlights the importance of supporting the learning of the Lao language and the development of approaches and tools to help those without opportunities become literate.
In addition to this key challenge of learning Lao language by non-Lao speakers, further differences are seen between men and women.
Nationally, 78 per cent of males aged 15-24 are literate, but only 63 percent of females in the same age group are considered literate.
This difference in literacy across gender is a major development challenge. Numerous studies have shown that literate women have increased economic security and increased solidarity.
Literate women are also less likely to marry early or to have children at a dangerously young age.
Finally, looking at literacy levels across locations reveals much higher literacy levels in urban populations than in rural ones.
For example, in Vientiane, the literacy level for females aged 15-24 is 92 per cent, but in the rural Oudomxay province, it drops to just over 50 percent.
These figures highlight the importance of literacy programmes across the country, for male and female citizens, for people of all ethnic groups and for communities in all locations. To address these shortfalls in literacy to contribute to Least Development Country graduation in 2020, a range of development participants, including civil society, need to be engaged.
The role of formal education in developing reading skills and love of reading is critical. About 51.2 per cent of preschool-aged children attend early childhood education programmes. These programmes help prepare children for formal education at an early age.
The love of reading can also start at the home. Parents play a key role in encouraging children to read. This is often done by reading to children and helping them with homework to ensure that children feel supported to read. 
Reading is important for a number of reasons. It provides access to stronger education and stimulates creativity and imagination, essentials in the healthy development of children.
As Laos continues to grow in importance on the international stage, books can also provide citizens with an insight into different cultures and ways of thinking, as well as allowing Lao people to share their stories internationally.
Finally, literacy ensures that citizens have full access to written information, which will allow them to fully participate in the development of their community and country. It opens up job opportunities and helps citizens fully contribute to economic growth. 
Literacy, specifically the literacy of women and girls, is one of the keys to least developed country graduation in 2020 and this should not be forgotten among the national and international investments in Laos' future.