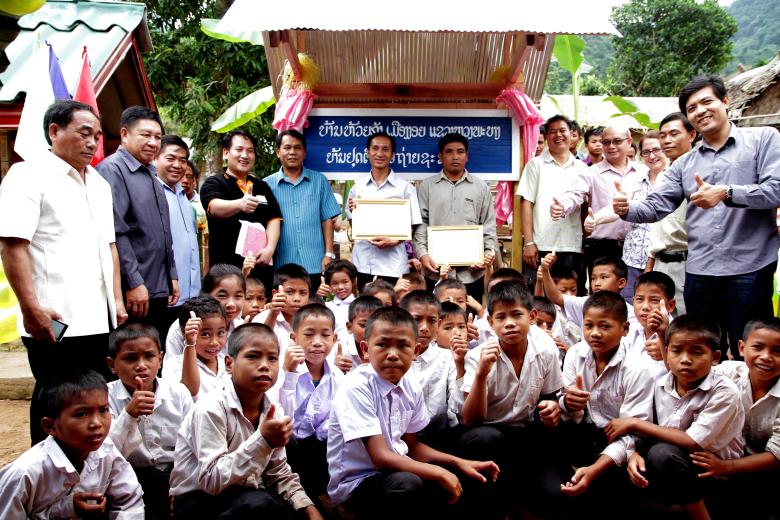 Open defecation free, a key for sanitation improvement in remote areas
Thursday, October 1, 2015
Three villages with about 150 households in remote districts of Luang Prabang province last week were announced to be Open Defecation Free villages.
The ceremony celebrated Ban Hoauy Maha in Phonxay district, Ban Hoauy Koung in Ngoy district and Ban Tang Qui in Phoukhoun district was held on September 15, 17 and 19 respectively. In attendence were representatives from Saat, vice district chiefs, village communities and World Vision.
The Open Defecation Free (ODF) activities in these districts are run by World Vision under the project named Community Led Total Sanitation (CLTS). The project began in 2013 through various activities which changed the behavior of local residents from villages with no toilets to becoming ones where every household has a toilet.
Using toilets sounds normal for people in developed areas but in many remote villages in Laos where villagers depend on nature, open defecation is their traditional practice. This causes many diseases and brings health problems for local villagers. Through the CLTS project, the villagers understand the importance of changing their behavior of open defecation practice.
By acknowledging the importance and convenience of having toilets, the community is led in building their toilets with consultation and advice.
"I no longer run into the forest on a rainy night for the toilet or getting mosquito and insect bites," said Ms Kia, a villager of Ban Hoauy Maha.
"Since we've had toilets there has been no outbreak of any disease while before we had frequently disease outbreaks," Mrs Nang of Ban Tang Qui.
Ms Sharon Kane, the Program Quality Director of World Vision said during the ceremony, "I'm happy to see this; it is a big achievement and the villagers themselves took the lead in making it happen. This can help their own children in the future for better health and wealth."
According to the provincial report, the percentage of people using toilets in Luang Prabang province has improved from 50 per cent in 2010 to 65 percent in 2015. They hope to be fully open defecation free by 2020.
World Vision, in cooperation with government authorities, are working in other villages of poor districts in Luang Prabang, Khammuan and Savannakhet provinces to make them open defecation free.