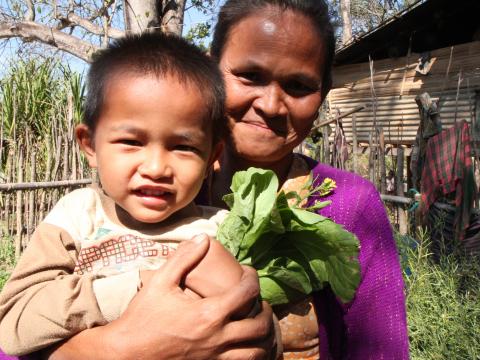 Plant a seed, grow a better future
Monday, January 23, 2017
Eight mouths to feed!
 Fields, forests and farms provide food for families in Siengdown village- but it's not always enough.
Yodamphone is husband to 38-year-old Pha and together they have six children. From dawn till dusk they both work in the fields growing under the hot sun, or in the forest looking for food.
"I usually wake up very early and head straight to the forest in search of food, often not returning home until noontime. It saddens me to leave my children at home alone. It's a difficult situation but with no food to eat and witnessing what negative affects that has on my children's health… I have little choice," Pha shared.
 Even with countless hours spent laboring in the rice field or the forest, the family faces frequent food shortages.
"In years when the rice harvest is good, our family has enough food for about 6 months out of the year. Some years our farm is affected by floods, so we remain hungry," Pha said.
In 2014, Yodamphone's family was selected to participate in the home garden project, along with 6 other families who were suffering from malnutrition. Having grown accustomed to working long hours outside, it was difficult to sit inside a classroom all day!
Any feelings of boredom quickly disappeared once the trainer spoke of growing lettuce, cucumber, long green beans, garlic, onion and other new vegetables. When discussing how to grow crops during the dry and rainy season, Yodamphone suddenly began to worry; his family didn't have any materials to build a house and a roof.
World Vision took Yodamphone on a learning trip to another province to reveal how other farmers were able to grow food in two seasons.  Upon seeing this, Yodamphone was filled with excitement, eager to try these new farming techniques. We provided his family with a water pail, vegetable seeds and all the necessary equipment to build and maintain a home garden.   
"Now, since establishing our home garden, my family has more nutritious foods to eat. My wife and I no longer worry about what we will feed our children, leaving us with more time to look after them instead of foraging in the forest," Yodamphone said.
The home garden pilot project reduces child malnutrition and helps families produce enough food throughout both the rainy and dry season. Through this initiative, families are able to enjoy life a little more knowing their children have enough healthy food to eat. We continue to organize cooking nutrition courses in this village, providing people with new knowledge and skills.
"This garden not only allows our family to have enough food to eat, but it also has the potential to produce a bit of income," Yodamphone revealed with a smile.
 "I am one of the mothers who attended the 12-day training course on nutrition. I am very happy now that I have many kinds of vegetables to cook for my family. Time is valuable, so I really appreciate the opportunity to learn about a different kind of food production system that replaces time in the forest," Pha says.
Having mastered running their home garden, Yodamphone's family began raising chickens and ducks as a source of income and food.
"In the future, I plan on making money by selling vegetables. For now, I am happy with just being able to provide nutritious food for my family. We currently need to find a way to store more water for plantation, because water is sparse during the dry season. I would like to thank the donors, government and World Vision for supporting us with materials and knowledge that enables our family to have more food and a better life," Yodamphone shares.