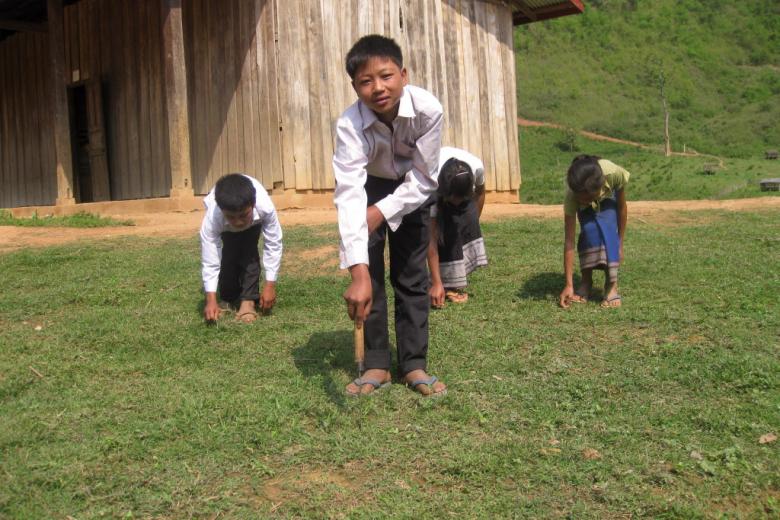 In school, thanks to sponsorship
Thursday, October 18, 2012
 Vanh Thongsone, a 14-year-old boy, is studying in Grade 5 at Donexay Primary School. He has five brothers and sisters who live with him in Donexay village on his parents' farm. 

Before Vanh become a World Vision registered child, his family was too poor to provide him with school supplies and a school uniform. Belonging to one of the poorest families in the area, the very small income from their farm was not enough to provide for the family's basic needs. They did not have enough rice for the family, and after the harvest, rice only lasted for three to four months. 

To survive, his parents were hired to clean garden grass, cut firewood and do other odd jobs to earn the enough money to buy rice and other basic needs. The income that they earned was a very small amount. It was very difficult for them to divide that income to buy school equipment and uniforms for the children. The situation was so tough that Vanh had almost no chance of attending school. 

Vanh Thongsone and his nine-year-old younger brother Mie, who is studying Grade 1 at Donexay Primary School, became World Vision sponsored children in 2009. Along with the other children, Vanh Thongsone received a school bag, school supplies and a school uniform. Each year, he has received support from his sponsor and now Vanh Thongsone has all the school supplies that relate to his studies. He has even been able to share some of his school supplies with his friends at school. 

Vanh's father, 38-year-old Thong, says, "I would like to thank World Vision, and the sponsor who is giving hope and a better future to my son. I promise that I will encourage him to focus on his studies."

"As of now, in our family, it is quite a bit better than before because the income that we are received [in the past], we could only use for our family's basic needs and for the rice. Now, we don't worry much about our children's school equipment and uniforms like before," Vanh's mother adds.

Vanh adds, "I am very happy that I became a sponsored child. I am provided with a uniform and school supplies so that I can study like my friends. Some day in the future I would like to be a teacher and teach the students in my school."

Vanh has regularly joined in the World Vision staff led activities at his school, such as making greeting cards and replying to letters from his sponsor. He has a lot of friends at school.

There are 84 students and three teachers in Vanh Thongsone's school, the Donexay Village Primary School, which offers Grade 1 to Grade 5 of primary education.