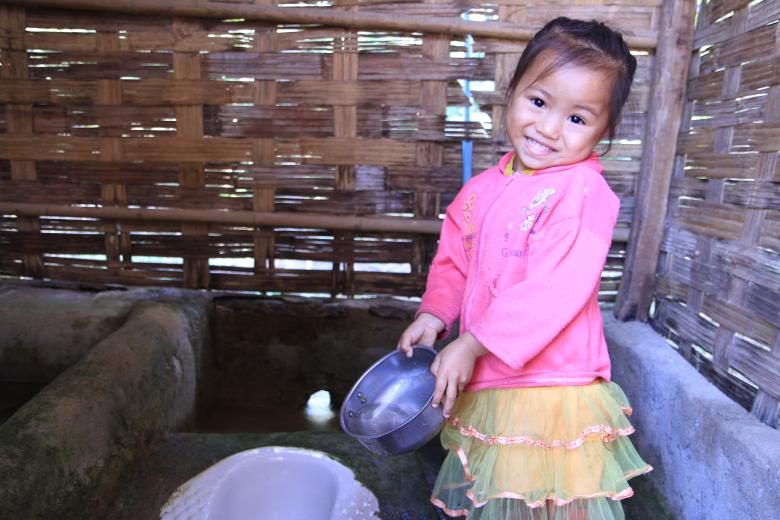 What does having a toilet mean to you?
Friday, November 20, 2015
To those of us with easy access to toilets, we may not think much about their value.
2.4 billion people around the world are still without access to even a basic toilet. In Laos, 62 percent of people use latrines and toilets on a regular basis while 38 per cent have absolutely no sanitation facilities and practice 'open defecation'.
November 19th is World Toilet Day - a day designated by the United Nations General Assembly to urge changes in both behaviour and policy on issues ranging from enhancing water management to ending open air defecation. This year, the focus of World Toilet Day is "Better Sanitation for Better Nutrition."
Nearly 1,000 children die every day from diarrhoeal disease linked to a lack of safe water, sanitation and basic hygiene. When children have diarrhoea they eat less and are less able to absorb and use nutrients from their food. This can become a cycle when children live in unsanitary conditions because malnourishment makes children more susceptible to diarrhoea, thus making them more malnourished, and on and on. 
So a toilet means so much more.
Toilets mean health- especially for moms and young children: When feces are separated from human contact and the environment, women and children are more protected from disease and malnutrition.
Mai, from Ngoi Area Development Project, is a mother who recently gave birth to her fifth child. "Having a toilet while being pregnant made the experience much better," she shares. "If you carry a heavy load and go to the forest at night or when it's raining, it's a real drag," she added. With an infant at home, having a latrine is very convenient. She appreciates and is proud of her family who worked together to have their own latrine.
 Toilets mean safety: Sexual harassment and rape are a risk for many women who have to wait until nightfall to relieve themselves in the open. Access to a toilet affords not only privacy, but increased safety. 
"I am very happy to have our own toilet. It makes my sister and I feel comfortable and safe, rather than afraid" - 12-year-old Tang 
"I was very afraid a snake would bite me during the rainy season," adds her 9-year-old sister Tick from Phin Area Development Project.

Toilets mean equity and dignity: Women and girls don't need a toilet just for defecation. They also need a private, safe place to take care of special needs during menstruation, pregnancy and the post-natal period.
Mone is a 14-year-old girl from Viengkham Area Development Project, who excels in her third year of secondary school because she no longer has to be absent from class. "Having a toilet allows me to feel comfortable and safe," she says shyly. "When there wasn't a toilet in our school and I was menstruating, I wouldn't be able to attend class," she recalls. 
Toilets mean clean environments: The UN estimates that 946 million people practice open defecation, which contaminates the natural environment and spreads diarrhoeal disease. Also, even where toilets exist, if waste water is not treated properly, it can contaminate ground and surface water and destroy ecosystems. 
 Yongleur, a father of eight from Phonexay Area Development Project, talks about the time his relatives came to visit a couple of weeks ago and he was proud to be able to offer them a comfortable toilet. They come from a remote village where not many people have toilets yet.  Yongleur presents himself as the modern and progressive man. "Our village is clean," he says proudly.
Toilets mean better nutrition: When people defecate in the open, it enables diseases like diarrhoea and intestinal worms to spread quickly. According to the World Health Organization, roughly 50% of all malnutrition cases are associated with repeated diarrhoea or intestinal worm infections as a direct result of inadequate water, sanitation and hygiene. A vicious cycle exists between diarrhea and under nutrition, especially for children.  
"Life changed for the better since receiving help to build latrines in the village. Children are shying away from open defecation and using toilets. It is not only clean and easy, but it also helps prevent children from sickness," says Phonekeo's mother.
Little 4-year-old Phonekeo, from Phonethong Area Development Project, stands happily inside a new latrine built close to her home. Her family is proud to say she is at a lower risk of diarrhea, underweight and stunting!
Have you heard about CLTS?
World Vision, in cooperation with government authorities, is working in other poor districts of Luang Prabang, Bolikhamxay, Khammuan, Savannakhet and Champasack provinces to make them open defecation free.
Open Defecation Free (ODF) activities run by World Vision under the project named Community Led Total Sanitation (CLTS). The project began in 2013 and initiated activities that changed the behavior of local residents from villages with no toilets to villages with latrines and other sanitation facilities for example.
In this case, a team of facilitators works with a community so they understand the impacts of open defecation. During this process, villagers walk through their community to discover the health issues they face and realize the impact it has on their health and safety.
Mapping defecation areas and calculating the amount of feces produced allows people in a village to understand how unsanitary it is. Villagers learn about money and how being open defecation free can help save money, by lowering medical expenses for example.  The community comes to an agreed decision on what needs to be done. The process is about building agreement and support so that each member will want to contribute to improving the situation by building their own latrines and help the village become a clean place to live.
Clean and safe communities mean healthy people!