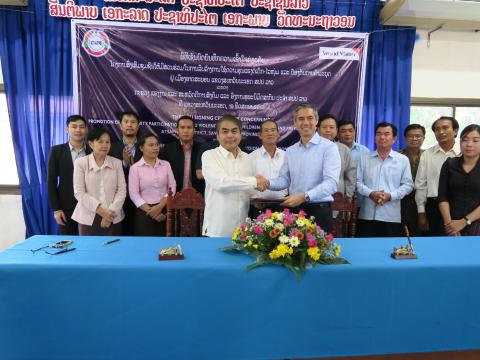 World Vision funds project to end violence against children.
Monday, May 22, 2017
World Vision Taiwan has given more than 2 billion kip (USD$255,000) through World Vision International Laos to carry out the End Violence against Children-Youths and Prevention of Trafficking project (EVAC) in five villages in Atsphone district, Savannakhet province.
The project will benefit over 5,000 people in the villages of Beung, Naphod, Singsavang, Natom and Donkaphoung.
The three- year project is led by the Lao government and World Vision International Laos and aims to end violence against vulnerable children and youths, especially girls and boys aged 12-14.
A Memorandum of Understanding was signed in Savannakhet on Friday 19 May 2017 by World Vision International Laos' National Director, Mr Christopher Herink, and Director General of the Labour and Social Welfare Department at the Ministry of Labour and Social Welfare,
Mr Phasong Vongkhamchane. Mr Herink and Mr Phasong will jointly implement the project.
The project will aim to ensure that children are protected from child trafficking, child labour, commercial sexual exploitation and early child marriage within supportive families and communities.
World Vision International Laos will empower vulnerable children and youths with skills and knowledge to eliminate all forms of violence and human trafficking.
Families and caregivers will be provided with information to access adequate service to end violence against children and youths and prevent human trafficking.
Child Protection and assistance Networks will be established and strengthened. World Vision International Laos will work closely with the Labour and Social Welfare Department and other departments in Savnnakhet province to plan, implement and monitor project activities.
Mr Herink said this project is an exciting opportunity to bring together many people who have an interest in protecting and caring for children. He expressed satisfaction that World Vision could share its experience and knowledge with many partners.
Various activities will be implemented under the project, including community-based awareness raising, education in schools, strengthening of incident management, and grants to fund youth-led prevention.
World Vision will also carry out an awareness raising campaign in target communities, hoping to end violence and prevent human trafficking.
It will provide support to vulnerable families and regularly follow up on and train people involved in Child Protection and assistance Networks in five target villages.
The project will also ensure that children with disabilities are included in all prevention activities. Sometimes these children are especially vulnerable to exploitation and we believe they should be protected and participate alongside other community members, Mr Herink said.