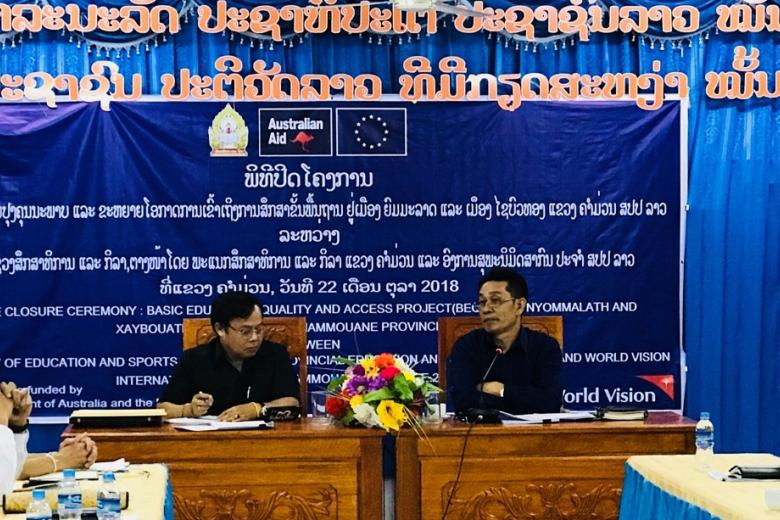 World Vision to improve access to primary education in Khammouane Province
Tuesday, October 30, 2018
After the completion of the BEQUAL NGO Consortium project, World Vision Laos will continue to help the most vulnerable children in Khammouane Province have access to primary education.
The Basic Education Quality and Access in Lao (BEQUAL) is a 10-year education programme led by the Lao government with the support of the Australian government and the European Union. The project aims to ensure that all children, particularly non-Lao speaking girls including children with disabilities to complete their primary education.
The consortium is composed of World Vision, Plan International, Save the Children and ChildFund, who implement activities that support in increasing access to primary education.
World Vision Laos has started implementing this programme in Nyommalath and Xaybuathong districts of Khammuan province. With the strong support of the government partners, there has been a significant increase of children's participation in both districts. Moreover, at least 89 teachers who teach in Lao language and 144 volunteers were trained to organize efficient and fun activities to develop the writing and reading comprehension of children. More than 70 teachers were trained on inclusive education, learning about teaching methods and techniques to help children with disabilities.
Around 54 Education Development Committees in the target villages were trained to manage small grants before receiving funding of over 220 million kips (US$26,366). The funds were implemented to encourage children to practice reading and to promote proper hygiene and sanitation. A total of 64 hand washing stations were installed in 54 schools to promote good hygiene among children. The children were encouraged to learn these practices at home.
A representative of World Vision Laos, Keo Chanthalangsy, said, "This is just one of the many project that we undertake, in partnership with government, other NGOs and civil society organizations to contribute to Laos' development, especially in the education sector. On behalf of the BEQUAL NGO Consortium, World Vision Laos would like to express our deepest gratitude to government partners at all levels who supported the implementation of the project."
World Vision Laos is ready to share the lessons, technical resources and experience with other partners regarding this project.
The BEQUAL NGO Consortium has also worked with partners such as the provincial education and sports department, Catholic Relief Services, Humanity and Inclusion and the Lao Disabled People's Association to pilot inclusive education for children with disabilities.