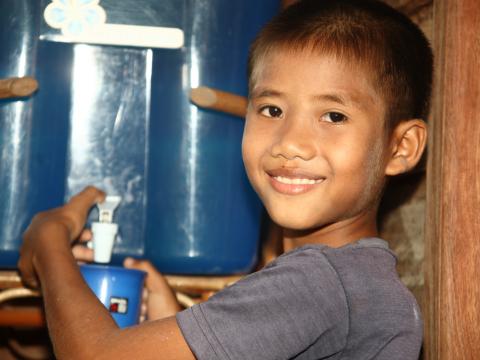 Our Work
"I am happy that I have clear drinking water!"
What We Do
Since 2004, World Vision Lao PDR has been designing and implementing multi-sector rural development programmes called Area Development Programmes (ADPs). These ADPs are district level partnerships with the Government of Laos, targeting villages in districts where children are suffering from the impacts of poverty.
The focus of all World Vision programmes is improving child wellbeing carried out through participatory partnerships with children, caregivers, communities, government, donor, and other organisations.
    QUALITY EDUCATION FOR ALL
World Vision emphasizes the importance of educating children at an early age and implements projects that strengthen children's learning abilities. We work with teachers to improve their teaching ability and engage parents and community leaders to encourage higher aspirations for children's education and increased involvement in school planning and management activities.
Fast Facts
Population under age 20: 50%
National budget allocation to education among the lowest in the world: 2.3% GDP
Literacy rate for women: 63%
Success Story
We provided training to 903 members of the village education development committees to promote the value of education. The training focused on the enhancing the community roles in supporting Education for All and lifelong learning. After training, the committees identified vulnerable children from poor families using village mapping, kept watch and monitored these children closely.  Through this initiative parents are able to see the value of keeping their children in school and dropout rates have decreased. In 2013, 1,515 children in our target villages returned to schools after dropping out of school.    
HEALTHY CHILDREN AND COMMUNITIES
World Vision works with local health workers and village volunteers to improve health care for mothers and their young children so they are well– nourished and protected from disease. We promote breastfeeding and good hygiene practices, increase access to clean water and sanitation and operate mobile clinics to administer life-saving immunisations and health supplements.
Fast Facts
Maternal Mortality Rate: 470 deaths per 100,000 live births
Of every 1000 births 61 babies die before the age of 5, with 78% of those deaths occurring before reaching the age of 1 year
   PROTECTED AND RESILIENT CHILDREN
To protect children from abuse, neglect, exploitation and other forms of violence, World Vision partners with government authorities and community leaders to raise awareness on unsafe migration, domestic violence, and trafficking and encourage safe behaviors. Children's groups focus on educating children on their rights and how they can protect themselves.
Fast Facts
Lao PDR is primarily a source country for trafficking into urban areas and other countries, where they often work in abusive conditions in service and sex industries, factories, agriculture, fishing.
60% of the trafficking victims are girls between 12 - 18 years old.
Over 75% of children are deprived of at least two basic childhood needs: the worst rate in Asia.
   ECONOMIC GROWTH OPPORTUNITIES
Population living on less than $2 per day: 2/3
Two thirds of rural households have a livelihood portfolio that puts them at risk of food insecurity should one or more shocks occur in a given year.
 World Vision empowers families to become self-sufficient and resilient to disasters and external economic shocks by increasing income through economic development opportunities. We work with communities to improve yields on existing crops by training on new farming techniques, encouraging crop diversification, and helping farmers gain access to markets. Opportunities for microfinance through local village development funds are available to help families start a small business or recover from emergencies.