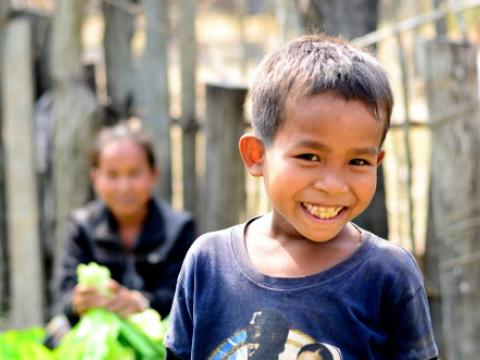 Programmes
Health and Nutrition
World Vision works with government, local health workers and village volunteers to improve health care for mothers and their young children so they are well–nourished and protected from disease. We promote breastfeeding and good hygiene practices, increase access to clean water and sanitation and operate mobile clinics to administer life-saving immunizations and health supplements.
Water and Sanitation
To improve sanitation and access to clean water and reduce the spread of communicable and seasonal diseases, World Vision works closely with the Lao government in 24 districts to help communities install toilets, built boreholes, and set up community water taps and water gravity-fed water systems. In FY14, we helped 1,284 households with access to latrines, constructing 1,034 latrines in total.
Education
World Vision works across 660 schools in Laos and emphasizes the importance of educating children at an early age and implements projects that strengthen children's learning abilities. We work with teachers to improve their teaching abilities. We engage parents and community leaders to become more involved in school planning and management activities.
We aim to ensure that all boys and girls can read and write by age of 12 and equip them with essential life skills. We are currently focusing on the following education activities:
0 – 5 years: Early childhood care, development and education
6 – 11 years: Basic education: literacy numeracy and essential life skill
12 -18 years: Positive adolescent development
Food Security and Economic Growth Opportunities
World Vision works with local authorities to empower families to become self-sufficient and resilient to disasters. We work with communities to improve yields on existing crops by training on new farming techniques, encouraging crop diversification, and helping farmers gain access to markets. Opportunities for microfinance through local village development funds are available to help families start a small business or recover from emergencies.
Child protection
To prevent children from abuse, neglect, exploitation and other forms of violence, World Vision partners with government authorities and community leaders to raise awareness on unsafe migration, domestic violence, and trafficking and encourage safe behaviors. Children's groups focus on educating children on their rights and how they can protect themselves. Our activities focus on the following areas:
Protect Children from unexploded bombs (UXO) dropped during the Vietnam War by partnering with NGO's who specialize in this domain
Anti-trafficking programme
Prevention child from sexual exploitation and abuse in tourist industry
Child club/promote child rights