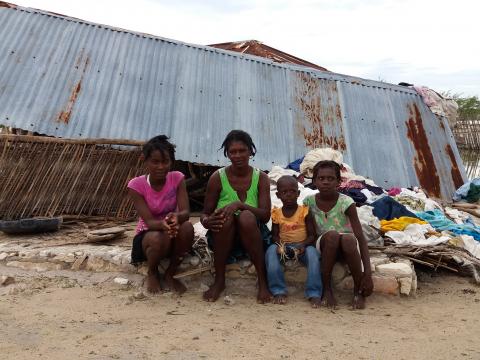 Hurricane Matthew devastates coastal communities in Haiti
Saturday, October 8, 2016
The extent of Hurricane Matthew's brutal blow to Haiti is still coming to light days after the storm hit as a Category 4 hurricane. It is only as aid workers and government teams reach remote areas of mountainous Haiti that were cut off by downed trees, crumbled bridges, and mudslides that the extent of the devastation is being made known.
"Each time we reach a new remote area, people rush up to our teams desperate for supplies," says John Hasse. 
"There are areas where people haven't eaten much or had access to clean water in days," says World Vision's National Director, John Hasse. "Each time we reach a new remote area, people rush up to our teams desperate for supplies," says Hasse.
World Vision's assessment team and partners in the hardest-hit area of Haiti's southwest peninsula are seeing 80 to 90 per cent of homes damaged or destroyed. On the island of La Gonâve, where World Vision assists 10,000 sponsored children and their families, as many as 50 per cent of houses are damaged.
Food, water, shelter, and health are top concerns
"My dream was to build a home, but it was destroyed by the hurricane," says Marie, a mother of three, a community on La Gonâve.
Marie and her children's livelihood depended on the sale of salt obtained in this impoverished community, which produces maize, cantaloupes and peanuts. "Everything is flooded, I've lost, the salt sacks I sell for a living. I am worried about my economy and my children," she says.
A large portion of Haiti's food is produced in the south, where the damage is most severe. Many crops have been destroyed by the storm as they were coming close to harvest.
Food security and malnutrition, especially among children, were already a concern. In some of the storm-affected areas, about 30 percent of children show signs of stunting, which indicates long-term hunger.
World Vision was making strides to improve the children's nutrition following the drought in 2015. 2016 looked to be a good year for crops. Now, most of those crops are gone.  
Families without clean water and sanitation are also at high risk of cholera and other diseases, which are especially dangerous for children.
Distributing clean water and water purification tablets, and repairing water systems will be a priority to prevent disease outbreaks, Hasse says.
Haiti team distributes relief supplies
Within hours after Hurricane Matthew's wind and rain subsided, World Vision staff in Haiti began distributing blankets, toiletries, and bottled water to Port-au-Prince families displaced by the storm. Our team on the ground had pre-positioned relief supplies such as tarps, blankets, water containers, and hygiene kits to quickly assist impacted families.
Relief operations are expanding into Nippes, on the southwest peninsula, La Gonâve island, and the outskirts of Port-au-Prince. Initial plans include distributing supplies for about 50,000 families. Damage assessments will determine the long-term response that's needed.
World Vision programmes in 200 rural and urban communities in Haiti serve more than 900,000 people, including 58,000 sponsored children.
How you can help:
Pray for the people of Haiti. Ask God to bring comfort to the children and families who have lost so much.
Donate now to help provide relief and supplies to those affected by the hurricane in Haiti.