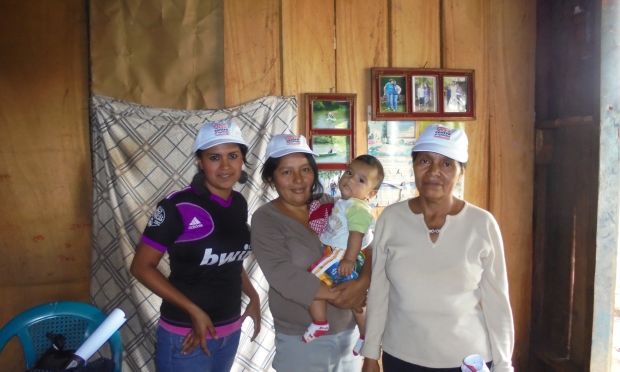 By Karen Gonzalez
In the Horna I community, located in northern Nicaragua, hundreds of families still breathe clean air and enjoy nature. Pines trees dot the land that people have preserved and where customs and teachings are passed on.
Here we find the story of a 48 year old mother of 8 children. She maintains the home and the family, having only studied until sixth grade. She was raised in an atmosphere of violence, abuse and humiliation from their parents. Subsequently, she experienced a similar situation with her husband which then played out again with her children, but her story does not end there. She tells you the story herself:
I was a very violent and aggressive person before participating in the training, I was always angry with my children, because to me, all of their behavior was bad. I thought that if my children were afraid of me then they would respect me. I punished my children just like my parents punished me when I was a child. I did not think there was anything wrong with hitting them to correct their behavior.
I heard about the project through my niece, Azucena. She is a community leader and has been involved with World Vision. She invited me to join the workshops. She told me that I should attend because I would realize that the way I disciplined my children was not right and it could get me into trouble. My niece explained to me that we all play an important role in the upraising and protection of our children. She told me that there are forms to raise children with protection and respect, and by learning these other ways to raise children, we will be able to help other children in situations of violence.
When I started to participate in the workshops, I began to understand that my aggressive behavior toward my children was due to my low self-esteem. I had to work on improving myself in order to raise my children in a good way. I also realized that if I continued to mistreat them, I was putting them at risk so that someone in the streets could exploit them or mislead them.
At first I refused to change my aggressive behavior, but with time and my participation in all the workshops, I began to really like the close treatment and sharing of experiences among the participants. I slowly joined more activities that were designed to help the community plan for better child protection. I began to participate in other actions to improve my knowledge about how to raise my children. Thanks to all the training, I left behind my aggressive acts as a way to discipline my children. Instead, I seek out dialogue and love so that my children feel close to me and trust me.
I think the biggest change I've made is eliminating the violent upbringing toward my children. Now I am someone who respects them and takes into account how they think and feel.
I wish I could participate in more spaces like this to help other mothers raise their children. Now I am community leader, supporting the plan for better child protection that we developed at the end of the workshops.