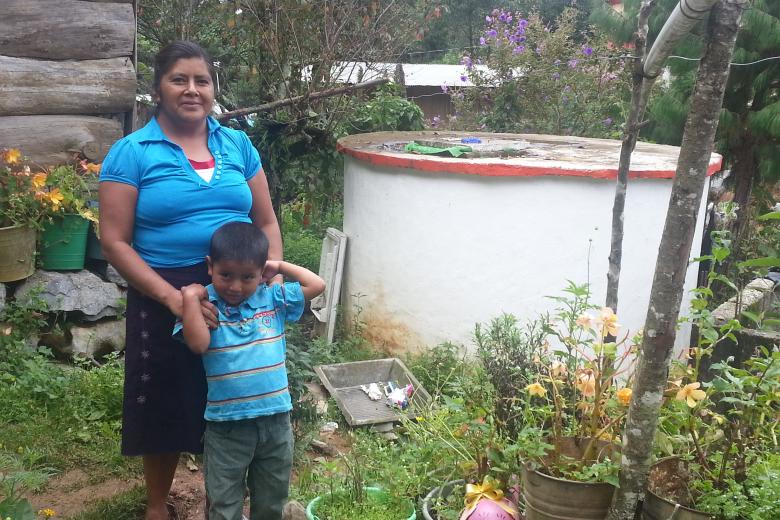 Water tanks store hope in remote, mountainous villages
Friday, September 27, 2013
By Jennifer Randall, WVI
Water tanks installed in World Vision Mexico Area Development Programmes (ADPs) are breathing new life into families living in distant, mountainside villages.
Women and girls throughout the Tehuipango district can be found skillfully negotiating craggy and muddy mountain slopes carrying buckets of water, cornmeal or sacks of vegetables while wearing wool skirts and thin dress shoes.
"It is good to have water by my house. It is good because I don't have to go to the river anymore - one and a half hours one way," said Mrs. Carmella, one of the women in the village. Now she doesn't need to walk far to collect water. She and her family have their own new water tank in the backyard of the family's home.
"I can do other things, spending time with my daughters," says Domitila, a mother of four. This time-savings of three hours per day enables her to spend more time with her family and to prepare and cook their meals.
Rain water saved and used
Water tanks make the most of natural resources by using a system which collects rain water, filters the water with chlorinated tabs and then stores the water for use throughout the year.
In rural villages, water tanks are not only a matter of convenience, but they also largely impact health and sanitation. During the dry season in April, there is little water to retrieve from dried-up rivers and residents of these communities are left to live in drought-like conditions.
"I drink this water. I wash my dishes with it and bathe in it," says Domitila, another mother in the community. Families like hers are taught basic health and hygiene practices - including re-purposing dishwater to fill latrines - by World Vision ADP staff.
"The community now has hope as they learn to work with World Vision," says Andrei Campos, manager of Mixtla de Altamirano ADP. "Families are understanding how to conserve water and use it how they need to."
Click here for more photos of water tanks in WV Mexico's projects.