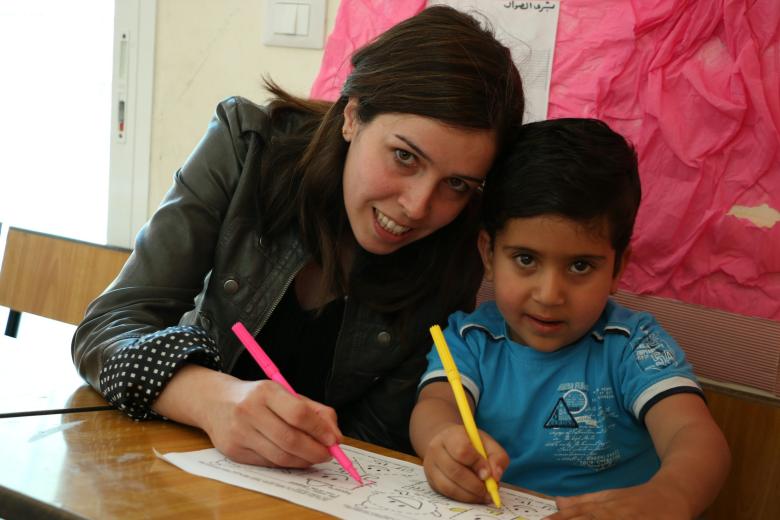 "I want to go to school!"
Monday, June 15, 2015
With his tears and determined screams "I want to go to school!" Baker, a 5-year old Syrian refugee in southern Lebanon, was able to prove that his physical disability, though it may not allow him to walk, could never stop him from attending his Early Childhood Education programme (ECE) with World Vision.
World Vision believes that physical disability should not hinder any child's education. However, it can be a challenge when education centres are not equipped to cater for special needs, as was the case with Baker's centre, due to the limited duration and funding of the programme.
Baker, however, faced these challenges head-on.  His teachers, Antoinette and Souad, witnessed his story. "At first, we were worried because the center is not well-equipped for his disability", they recall. "We started thinking of the simplest things; like how would he reach his classroom while there is no elevator or special stairs", Antoinette recalls.
The teachers shared their concerns with Baker's mother, Shayma, and asked her to give them a couple of days to prepare an alternative plan tailored to Baker's needs.
"Baker did not stop crying when we told him that he would have to wait until the next week in order to go to school." He did not want to wait – he wanted to start right away", Baker's mother, Shayma, shared.
Shayma had to find a quick solution. "I asked the bus driver to carry Baker up to his classroom", she says. "Now, it's not only the driver who helps; we too go down and help him up to his classroom. Making sure that Baker makes it to his class has become our mission," says Antoinette.
Being shy, Baker does not speak much, but nods and smiles when asked "Do you love school?" He looks away then looks back and giggles. "Let's play with the ball, I will throw it to you, and then you throw it to me", Baker says. He throws the ball while remaining seated. He laughs when he catches the ball; he hugs it and then throws it back.
Baker tells us that he wants to become a sports teacher when he grows up. "I want to become a sports teacher because I love sports". When seeing the camera, Baker's plans for the future start to see new dimensions. "What is this? How does it work? Where do we press to switch it on?" Baker asks. He's curious about the camera. "I want to take photos also when I grow up", Baker says excitedly.
Baker's treatment for his disability should have started three years ago. But the war in Syria reached his house and neighborhood, forcing his family to flee. "The doctor told us that this surgery would allow Baker to walk," Shayma says while pointing to the 3-year old prescription which she still carries to this day.
Baker can stand but cannot walk. He moves cheerfully around the house using his green and black wheel chair. "I can sit alone", says Baker to his mother when she offers him her help. 
 Baker has been in the ECE programme since it started in January 2015. Among the 280 students registered at the centre, his teachers, Souad and Antoinette, are particularly inspired by Baker's passion for learning. "Baker participates enthusiastically in class. He is very intelligent, disciplined and polite," says Souad.
"You think this is a boy or a girl," Baker asked while pointing at his brother, "what is the colour of this pen?" he asked while drawing. Baker does not ask these questions because he is searching for an answer; but to test people around him as to whether they also know what he learnt at the ECE. And with every question, Baker smiles and even laughs out loud. "Baker is a happy child; he spreads his joy all around. We are inspired by his happiness and strength, "says Antoinette.

Souad describes how Baker is able to join the basketball game through his joyful spirit. "While sitting, Baker watches happily as his friends play and try to score goals. You can read happiness and excitement in his eyes, although he is not running with them. He starts smiling, laughing, and clapping when the ball goes into the basket. That's how he supports them and becomes a major part of the game," smiles Souad.
ECE Programme: "School" in the Eyes of Syrian Children:
World Vision runs Early Childhood Education programmes (ECE) with the aim of educating Syrian refugees aged 3-5 in Lebanon with the basics of education. The programme also prepares them for formal school. The Department of Foreign Affairs and Trade (DFATD) Canada funds the programme under a larger project called Stand with Me: No Lost Generation Initiative" (NLG), a project working on protecting the futures of children affected by the Syria crisis.
Since the crisis started in March 2011 and up until late 2014, almost 80% of Syrian children in Lebanon were left out of school due to the lack of available places for both Syrians and Lebanese. Elika Dadsetan, NLG Project Manager, explains that it was just a few months ago that the Ministry of Education and Higher Education(MEHE) launched afternoon shifts for Syrian children in its public schools in most areas where NLG operates.
"Children in Syria do not go to school before the age of 7; while in Lebanon, children start school at the age of 3 or 4," says Dadsetan. Syrian children who try to enroll in Lebanese schools at age 7 for the first times are several years behind local children who have been attending school from a young age. As well, compounding barriers include instruction of some subjects in foreign languages in Lebanon (mainly English or French), differences in curricula and unfamiliar teaching methods. So, in order to help Syrian children keep up, the ECE programme started in January 2015 in southern Lebanon.
ECE consists of two shifts per day for an hour and half. "We teach students the basics, like letters and numbers, but using creative methods, like songs, stories and games", says Souad. Each week, students learn about a new letter and a new number, in both English and Arabic.
ECE: An Uplifting Experience for Teachers and Students
While ECE was launched as one of the protective tools for the future of Syrian children, it has triggered a positive change in the lives of teachers too. "ECE taught us the power of giving," says Antoinette, who is Lebanese, and did not realise how much the crisis negatively impacted the Syrian community until she joined the ECE programme. "Now, Syrian students are like my children. Seeing how much they need care inspires me to give fully from my heart," she shares.
"Teaching them has become our mission in life, not our job," says Souad. "They tell us that they love the ECE more than the public school", says Antoinette.  Moreover, asking the students what they would like to do or learn is their teaching approach. "Students who finished their cycles still visit the centre; you can tell that the programme means a lot to them," they share. "The refugee children need love and care, as much as they need education," Antoinette says. 
ECE- What is next?
Baker's classmates had different words to describe their feelings towards the ECE centre but similar reactions: "We love the school, we love Ms. Antoinette and Ms. Souad, we love to draw, we love to write," Adyan, Ahmed, Safaa, and Ahmad say. Teachers had different expectations on "what's next", but similar feelings of worrying about the future of the children after the ECE.
 "We are worried that students might start working to help their parents," Souad mentions. The teachers' worries are derived from the fact that the ECE programme will end in June 2015, due to funding limitations. "Students here learned about their rights; their opinions and choices were given value. I am afraid that if they go to work, that will ruin what we are building," shares Antoinette.
Despite its early end, there is still hope that students would continue their journey in public schools. "We cannot promise that all of them will go to school, due to limited spaces in public classrooms, but if there is space and they can attend, we hope that we prepared them to succeed," concludes Dadsetan.
For the sake of No Lost Generation, World Vision hopes that when other Syrian children scream "We want to go to school!" we will have the needed funding to carry on similar ECE programmes.