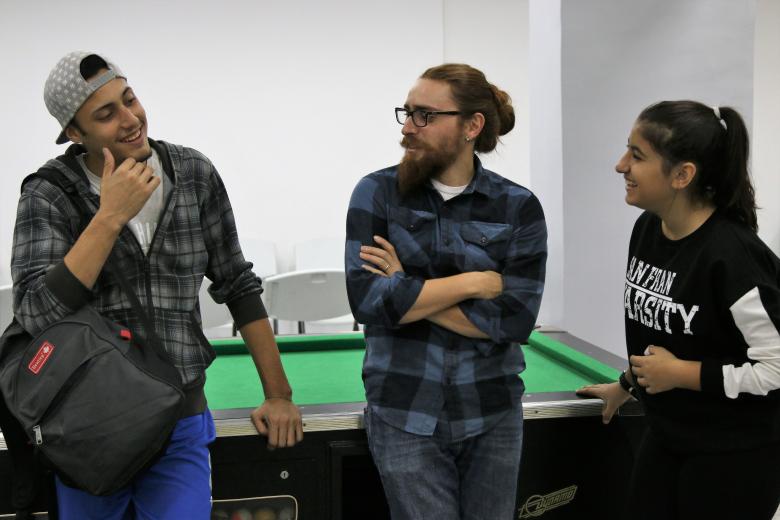 Crossing Borders, Breaking Boundaries
Wednesday, December 5, 2018
Violence, addiction, unemployment and a high crime rate; these are ingredients for social unrest in any city in the world. Throw in refugees and an uneasy resident population and you have a social time bomb. In the suburb of Bourj Hammond with a population of 210,000 people (including about 60,000 refugees) over an area of 2.5 km2, Bourj Hammoud is one of the most densely populated districts in the Middle East.  The suburb houses a majority Armenian population with a notable Lebanese Shi'a Muslim, Lebanese Christian and Palestinian population.  It is also home to a growing number of guest workers from Asia and Africa as well as refugees from Iraq and Syria, all having one thing in common, poverty. 
 With a focus on addressing the underlying causes of poverty, social tensions among host and refugee communities and realizing the neglect of the adolescent population, Youth For Christ (YFC) had a dream to establish a holistic community center for youth in the suburb of Bourj Hammoud. 
In partnership with World Vision Lebanon (WVL), YFC's dream came true.
 Through the Manara Center, YFC is transforming the lives of youth in the suburb, building their skills, creating social bridges and supporting their development.
David Castameda, YFC Center Coordinator, emphasized that their main goal was to ensure that youth experience reconciliation with Christ and among themselves.  "At first, youth usually don't see reconciliation as an important aspect of their lives, but throughout the program they begin appreciating the opportunities to meet youth from different cultures and backgrounds, and eventually get to call them friends," says David. 
During the reconciliation sessions, YFC intentionally dedicates time for the youth to eat together, play games, and have discussions around a specified subject. They also engage in different group activities and actively participate in each of the sessions.
At the end of each of the three months reconciliation cycles, the youth come together and design a social initiative to contribute to their communities, working together regardless of their nationality, religion or socio-economic status.
"In general youth are open to consider friendships from different backgrounds and to learn more about how to handle problems in life and this will eventually positively reflect on their family, friends and community," adds David.
Wael Aoun, YFC Assistant Center Coordinator and one of the leaders of the reconciliation sessions, acknowledges the importance and impact of the reconciliation program. "Each cycle opens the eyes of the youth to life, and guides them to avoid unnecessary problems with the people around them." 
In general, the reconciliation groups consist of eight to ten youth from different backgrounds; Syrians, Lebanese, Iraqi, Palestinian, Christians and Muslims. They go through weekly sessions on tolerance, identification of feelings, coping mechanisms and conflict resolution for a period of 12 weeks.  "The long term involvement and collaboration get the youth closer together and gives them the chance to understand the program better," adds Wael.
Ghina, a 13 years old girl from Syria, has been visiting the Center for almost a year now. Her family escaped the war and found refuge in Burj Hamoud in 2012. "I don't remember much, but it was horrible, we had to leave our home, family and friends and come to Lebanon," says Ghina. "Before starting the reconciliation sessions I wasn't a team player and couldn't control my temper. I had so many things to be angry with and I used every excuse out there. The reconciliation sessions and the center in general have helped me deal with my anger in better ways and looking back, I can say that am a different person now. " Adds Ghina.
The YFC is a perfect environment to break boundaries and make new friends from different backgrounds. "We were five in our group and I didn't want to be friends with anyone at first but as time passed and through the teamwork activities, I became good friends with a Lebanese girl," confesses Ghina.
 With a different challenge but similar impact, Mohammed has been visiting the center since the beginning. " I am now a more responsible person, especially with my family and neighbors. I used to curse and throw garbage on the streets but after the reconciliation program I have become a new person, more aware, and more responsible." The center is now his base to meet his friends and study.
Mohammed's family moved to Burj Hamoud 10 years ago due to financial problems. "From my first visit to the Center, I felt really comfortable. The teachers here are professional in how they approach our emotions and they guide us to understand life better." Says Mohammed.
Mohammed made many friends. Because of them, he learned to play football, which he hopes to pursue professionally. Similar to Mohammed, the center has left many youths with aspirations and prosperous plans for the future.