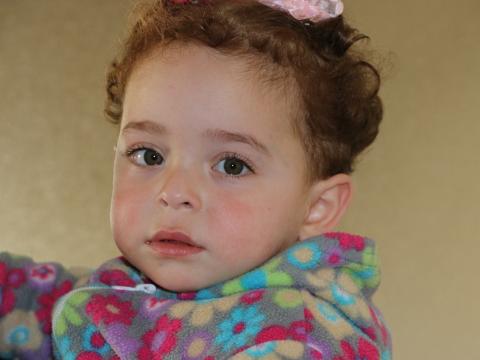 Dana's life is saved!
Friday, October 23, 2015
Like every day, Dana, a 2-year-old girl registered in World Vision's sponsorship programme in Southern Lebanon (Bint Jbeil), was playing inside her home. And similar to any cold home during winter in Southern Lebanon, 'the stove' or the traditional heater is a must. Actually, the 'stove', which generates heat from gas, is the most reliable heater used by most families during harsh winters, due to the rural nature of the village and to the almost complete absence of electricity. Families gather around it and even use it to make their drinks hotter.
 That day in January 2014, was much like any other day in Linda and Hussein's (Dana's parents) home until Dana slipped next to the stove, spilling hot coffee over her body, leading to an intense and deep burn all over her body, except her face.
 As a result of the accident, Dana burnt all her stomach and left leg. Linda carried her to the closest hospital where a blood test showed that her body had stopped functioning normally as a result of the burns.  Doctors recommended that Dana stay in the hospital for five days—care that might not have been possible without the medical insurance provided by World Vision.
Unfortunately, this is the stove which caused the burning of Dana's leg. 
 "I used the medical insurance card provided by World Vision," remembers Linda. "If I hadn't had that card, the procedure of entering hospital would have been much more complicated," she says, noting that in the past she has had difficulty gaining access to hospitals who ask how she will pay for the services provided.  "While with this medical card, thank God, it was really very fast and easy, and I was able to save Dana's life," she says.
 Linda remembers how her daughter stopped moving her leg during the her first five-day stay at the hospital. She alerted the medical professionals and had her transferred to a specialized hospital in Saida (a city in Southern Lebanon) where she stayed for 19 more days, receiving specialized treatment and physical therapy for her leg, until she was able to move it properly.
 Once her mobility had returned, Dana had to be moved yet again to another more specialized hospital in Beirut in order to undergo a surgery that would close the burned skin in order to avoid further infection and decrease the level of malformations in her leg. The hospital in Beirut was the last hospital Dana visited. Today, she is continuing her treatment at home.
Dana recovered her burn and gained back her mobility. Dana is back to running and playing all over her house.
 Hanna Swidan, manager of World Vision's work in southern Lebanon, explains that these cards are used only for emergency incidents, and that each sponsored child has the right to use one under normal conditions.
 "The fact that Dana moved from one hospital to another risked her expenses being fully covered through the card according to insurance laws and procedures; however we called the insurance company and explained to them the humanitarian roots of the story, and they agreed with us to fully cover Dana's case," explains Racha Makki, World Vision's development facilitator at Bint Jbeil Area Development Programme.
 Swidan explains that the medical insurance cards are the only aspect of World Vision's work that involves indirect financial support to the health of children, as all other activities work focuses solely on development. "After assessing the area's needs, World Vision realized the spread of vulnerable families who cannot afford to protect their children from emergencies, and that's when World Vision decided to respond to their need in 2004 through those medical insurance cards," emphasizes Swidan.
 More importantly, the community is currently contributing small amounts to the total costs of the cards. "[Our goal is] that later on, a council will be formed and this council will be responsible for the [administration of the] medical cards, and not [World Vision] anymore. We she adds.  
The eyes of Hussein, Dana's father, become watery everytime he remembers how Dana's life was danger. 
 Hussein, Dana's father, remembers that the 30 days after his daughter's accident were like the worst nightmare of his life, admitting that he lost control and failed to control his anger at times, until Dana was able to complete her last surgery. "I felt hope that my child could move her leg and would, at least, be much less malformed," he says. "The doctors said that the malformation would need at least three years to start disappearing gradually," shares Linda, with hope.
 Dana cries every time her parents get close to her burns. "She remembers all the pain she passed through the past month," Linda shares. Nevertheless, Dana is still the source of joy the family's home. She is now able to play and run like before. "The surgery saved her leg and life, thank God," Linda says.
 "It is not easy at all," adds Hussein. "We thank God that we have World Vision's medical cards. Otherwise, we really would not have known what to do," he adds, with a mixed feeling of past sorrow, present gratefulness, and future hope.