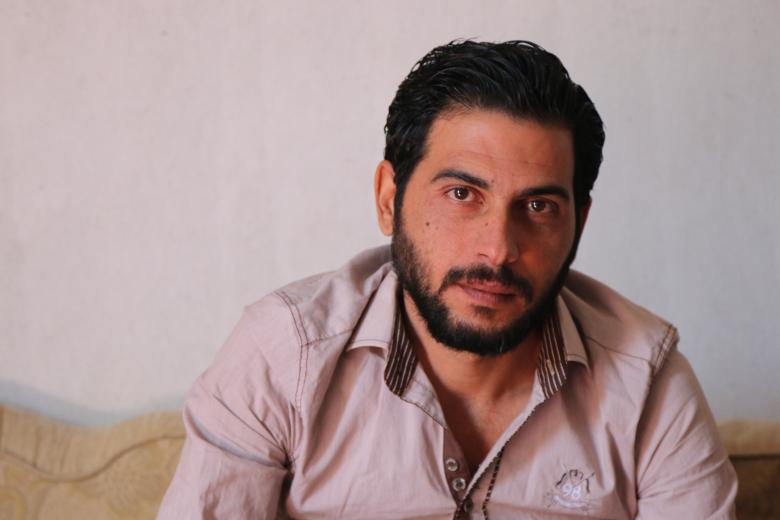 A father's positive home
Tuesday, November 6, 2018
For Syrian refugee families in Lebanon, raising a child within their current circumstances is not only a struggle, but also a source of constant worry. Whether they reside in informal tented settlements in the Bekaa valley or in substandard shelters or one-room apartments in other regions, the well-being of their children is still at risk. Between the limited job opportunities for refugees and making ends meet, Syrian refugee parents are failing to hide their stress from their children. Malek, a 32-year-old Syrian father of three – two boys and one girl, refused to allow the circumstances to define the relationship with his children. For this purpose, Malek became an active member of the Go My Child Go sessions provided by World Vision and one of the very few fathers who were committed to the programme.
Aleppo, Beirut, Bent Jbail
In an unfinished old building in the South of Lebanon resides Malek, his 25-year-old wife Hamida, and their three children.  The brutality of the way in Syria forced the young couple to leave everything behind and start fresh in Lebanon. "We had a choice to make; either we stay in Aleppo and die, or we leave our hometown," says Malek, "leaving did not mean saving ourselves, because there were no guarantees that we would arrive safely. Leaving only meant taking the chance of your life," admits Malek as he remembers the difficulties of leaving Syria under the clashes. Beirut was their first stop in Lebanon. Their new start was not as fresh as they expected. They shared a small apartment with Malek's cousins as well as his father. "Hamida was cooking for all the men in the house," recalls Malek, "I couldn't stand seeing my wife tired all the time." Malek felt it was crucial to start looking for a better place to live. He did find opportunities as a floor tiler in the city, but never made enough money to pay rent in the city. Malek's cousin advised him to move to the villages in the South of Lebanon. "There isn't plenty of work here, but at least rent is cheaper and we have our privacy."
Malek's fatherhood
After moving to Bent Jbail, south of Lebanon, Malek and Hamida's family grew. They had three children. Even though life in the South was cheaper than Beirut, the daily stressors were still there. "The situation is this: if I don't put food on the table, the children would not eat, and if I can't find work, I can't put food on the table," explains Malek who speaks of the hardships Syrian fathers face in Lebanon. "My biggest heartbreak is taking my anger on the children," admits Malek, "there were times when I felt so hopeless, that if my son Baher did not listen to me, I would slap him on his hand. I was angry at everything and feeling so down."
Malek and Hamida's eldest, four-year-old Iline, is her father's "little jewel" as he calls her. She attends the Early Childhood Education sessions provided by World Vision to Syrian refugee children between the ages of three and five. In addition to the educational programme, World Vision provides Syrian refugee parents with the Go My Child Go sessions, a curriculum of15 sessions. It strengthens the confidence and competence of mothers, fathers, and other primary caregivers of children from the ages of 0 to 5 years old, thereby, promoting caregiver-child relationships that foster children's growth, learning and lifelong development. As husbands tend to be the income-providers, few men attend the sessions. Malek, however, prioritized them. "I come from an environment that does not prepare nor teach you to be close to your children. I, myself, never had a conversation with my father. It was a relationship built on obedience and respect – but not more!" confesses Malek, "I, however, want to be my children's friend."
Positive discipline and communication
"I met with the parents once a week. We talked about various subjects that ensured a proper environment at home for the child. Malek stood out as the only father who was always keen on learning more about positive discipline," says Micheline, World Vision's outreach facilitator. "His eagerness to learn was very clear." Malek participated, shared personal experiences, and expressed interest in learning more.  "With time, I learned how to keep my worries far from my children. Most importantly, I learned how to communicate with my children and maintain a calm, peaceful atmosphere at home," says Malek. 
With funds from World Vision US, 131 parents are learning how to keep their children safe, secure, and happy.  Even though the well-being and future of his three children will always be his number one concern, Malek learned to enjoy his time with them, build a strong bond, and create a positive atmosphere at home.