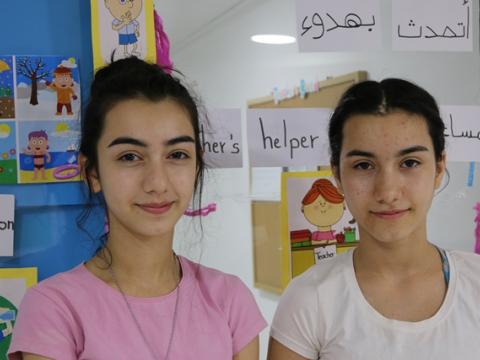 The forgotten faces of the Middle East
Thursday, July 19th 2018
When the term "refugee crisis" is used in the Middle East, thoughts are immediately directed towards the sufferings of the Syrian people who live in tents or substandard shelters, scattered across neighboring countries. In Lebanon, the attention of the local and international media is drawn towards the Bekaa Valley where heavy war stories from Syria are found. Here, humanitarian agencies proceed with their operations for the aid of the vulnerable Syrian people. However, vulnerability in times of crises has many faces and nationalities. And unfortunately, the sufferings of the Christian Iraqi refugees in Lebanon have been quite forgotten. 
Far away from tents and valleys, Marianne and Noor*, two Iraqi teenage girls, are struggling for a normal teenage life and a promising future. In their denim skirts and messy buns, Noor, 15, and Marianne, 13, walk around the streets of Beirut where they live with their mother, grandmother and two younger sisters, in search for jobs. "No one is hiring us. I tried getting a job in retail, but they said I was too young, but we desperately need to support our mother!" explains Noor. In 2014, their father walked out on them, leaving their mother with four young girls in an unsafe country. "Mama was desperate to protect us from the war and poverty. We travelled to Erbil where we stayed with relatives for a couple of weeks, and then came to Lebanon," recalls Noor. 
Noor, 15, the eldest of four girls, has been out of school for more than four years and is currently looking for a job to help support her mother.
In Beirut, their mother struggles to make ends meet. She works as a cleaner in a company but recently she was laid off. Since then, the girls took it upon themselves to support their mother. "We have been out of school for almost five years, and that's the worst part about leaving your home country," Noor laments, concerned about going through the rest of her life with no education. The girls weren't able to fit in the Lebanese schools, neither socially nor academically. Their mother could not pay the tuition of a private school in Beirut, and the girls were not able to endure the rampant discrimination and bullying in the public schools. "All of our Iraqi friends in the area are out of schools for the same reasons, but some of them were lucky enough to be resettled in Canada or Australia, and that is why I joined the English sessions. Maybe one day, my family gets a fresh start in a different country," admits Noor.
In May 2017, World Vision, as part of the Church Refugee Engagement Fund and in partnership with the International Orthodox Christian Charities (IOCC), started the transformation process of the Chaldean Church's dim underground parking to a church center to accommodate activities to enhance the personal development and skills of vulnerable refugee communities. After the rehabilitation, the youth were invited to register for the English and Computer workshops. "I did not understand a word of the assessment test which would determine our level. This is when I realized that I desperately need to learn English," Noor said, sharing a laugh with Marianne who interrupted her older sister, "we had to answer questions based on what we understood from the text, and I must tell you I barely understood three or four words," Marianne recounts, bursting into laughter. 
In line with World Vision's commitment to the poor and the most vulnerable, the organization's partnership with IOCC and the Chaldean church was forged to best respond to the plight of the forgotten Iraqi refugees in Lebanon. "Regardless of their numbers, their stories are still unheard. Stories of individuals who were forced to leave everything behind and venture into the unknown, escaping religious persecution because they wouldn't give up on their Christian identities and beliefs," says Zeina Zouein, CREF project manager with World Vision in Lebanon. "Iraqis came to Lebanon with no aid agenda in place. They suddenly found themselves cornered and alone. The Chaldean Church in Beirut was among the first few churches dedicated to support the Iraqi refugees. However, the church still needed all the support it could get," she explains, "through the CREF and the partnership with IOCC; I believe we have established a long term building block to the mission of the Church in response to the most vulnerable."
"The best thing about the workshop is that we met people who left Iraq, in similar conditions to ours. We made friends, read books, and laughed at our spelling mistakes. It is one of the best experiences in our time in Lebanon," says Noor. "Most importantly, we learned a lot!" Noor and Marianne now spend their free time practicing new hymns with the church choir. That is the only activity they do when they are not out looking for a job to help support their mother.
Noor (left) and Marianne (right) spend their free time at the Chaldean church, practicing with the choir. 
Like many other Iraqi children, Marianne and Noor's educational dreams have been crushed in Beirut, left to rely on small initiatives like the foreign language workshops funded by World Vision. Until something is done, a generation of Iraqi refugees will be robbed of their right to education and will remain the forgotten faces of the Middle East's refugee crisis.