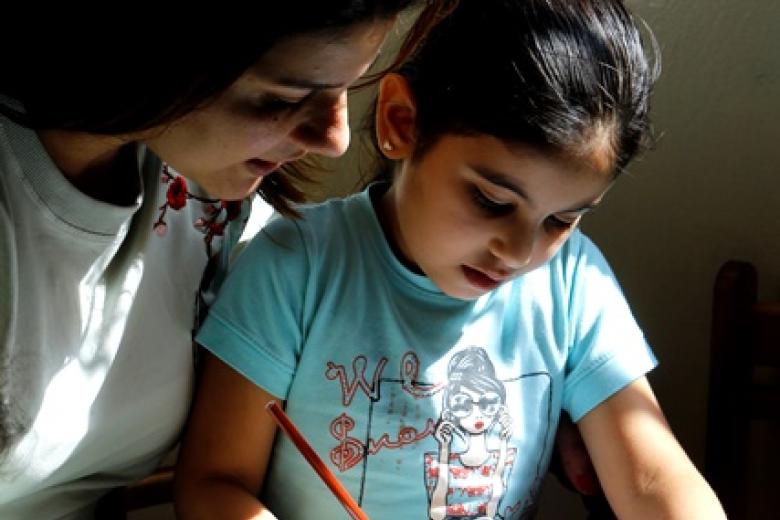 A hygiene hero's origin story: When Rim met Raya
Tuesday, October 30, 2018
In addition to the heartache of not having a proper home, life in an informal tented settlement (ITS) means surviving cold and harsh Lebanese winters. It also means no safety and poor housing conditions. Hundreds of Syrian refugee children in Bekaa, who are residing in small tents or substandard shelters, are having trouble maintaining good hygiene practices. However, five-year-old Rim is all about keeping herself and her siblings clean and healthy. She learned to do that with the help of her new friend Raya.
Life in the settlement
Rim's parents fled the clashes in Syria after the first year of the war in 2012. "I couldn't handle being afraid all the time," admits Rim's mother, Fatima. The family resided in the same ITS in the Bekaa valley as several other Syrian families. Rim was born in Lebanon. She has three older brothers and two younger sisters. "Our circumstances are difficult. It is very hard for us women to keep our homes and children clean," explains Fatima. "The settlements are always muddy and our children can only play outside." The entire family sleeps in one small room and shares the same latrine provided to each household by humanitarian organizations. The water supply is limited only to what the family is provided with.
Rim meets Raya
Fatima enrolled Rim in World Vision's Early Childhood Education programme where the "WASH UP" project is implemented. Through a partnership between World Vision and Sesame Workshop, the project focuses on hygiene and water conservation education through child-centered interactive learning and play-based material that encourage group work. The programme features popular Sesame Street characters, such as Raya its newest member, that deliver messages around water conservation, clean water, hand washing with soap, and proper latrine use, as well as her muppet friend Elmo. "I observe Rim in class and she seems enchanted with Raya. She pays attention to the smallest details," says Rim's teacher, Vicky.
"Raya keeps the bacteria away. She is the star of super health," says Rim with excitement. "Raya says that we should wash our hands several times. For example, before and after eating, after going to the bathroom, and whenever we touch something dirty!" Rim did not use pay attention to her hair. She kept it loose on her face, without combing it. At times, her fingernails grew long and dirty. Nevertheless, after meeting Raya, Rim realized that taking care of her personal hygiene and her surroundings are actually taking care of her health.
The big improvement!
As the teachers observed the children's progress, they realized that Rim was taking the hygiene lessons to heart. "I have sensed the improvement in the children's hygiene, but Rim took it to another level," admits Vicky. Every morning, Rim wakes up early to take a shower while her family members are still asleep. She combs her hair and makes sure her clothes are clean. She then packs her bags and waits for the school bus to arrive. She does not keep her newfound fervor for hygiene to herself; she shares it with her siblings. "Raya taught her friend Elmo how to stay healthy, and I am doing the same. I always share the information I have with my brothers and sisters," says Rim, "I explained to them about germs and how we can easily fall sick!" Not only was she helpful to her brothers and sisters, but Rim started helping her mother out with home chores. "She offers to do the dishes, dust the house, and take the garbage out. She never paid attention to what I do around the house before."
Rim is one of 784 children benefitting from the WASH Up project. Through the project, not only are children learning the benefits of good hygiene practices on their health but are also becoming lightning rods of change in their homes and community, just like Rim.