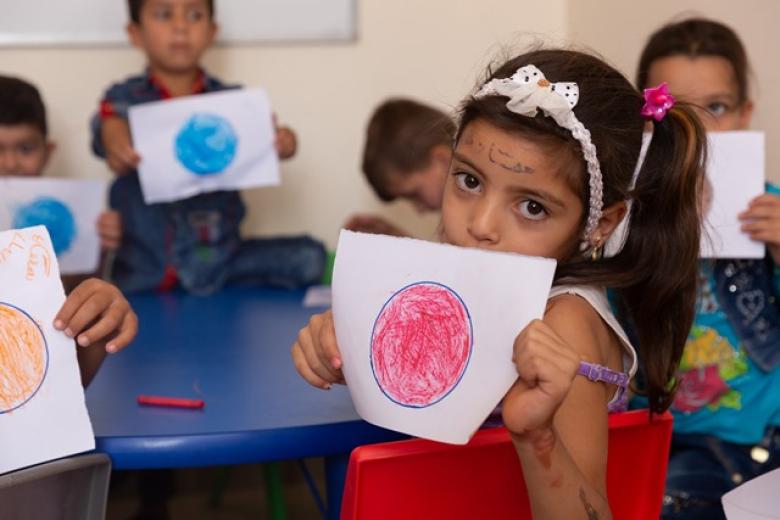 Jana knows no excuses
Friday, October 5, 2018
Holding a refugee status and residing in tents in one of Lebanon's most marginalized areas did not summarise all of Jana's struggles. Jana is a five-year-old Syrian refugee girl living with cerebral palsy, a condition that affects her mobility.
She has had to endure her biggest nightmare-using staircases, and the constant mocking from other children. This ended up affecting her interaction with other children, including that of her sisters.
The day Jana was born was one of the most difficult days in her father, Ali's, life. "It was a very dark day," Ali says as he remembers the explosions. "The sound of barrels falling was intense, and I could see the fear on my pregnant wife's face," he recalls. It was too early for Ali's wife to give birth to Jana during the first week of her seventh month of pregnancy, but stress had a very ugly toll on her. Therefore, she went into labor early. Due to the multiple checkpoints and roadblocks, Ali was unable to take his wife to a proper hospital. Instead, his only option was to settle for the town's poorly equipped medical center where Jana was born. Unfortunately, Jana needed intensive care and the medical center lacked an intensive care unit. Jana's situation only worsened. "As a baby, my daughter never crawled and had trouble moving and lifting her left foot," he recalls, "but what broke my heart the most was seeing her hit her left leg as she grew up in order to feel something".
Jana has five other sisters, four of them older than her and one younger sister. She never commented on how and why she was different from her sisters. She was never overt about it. She tried to imitate their jumps but failed. This led her to isolate herself from not only her sisters but also other children.
As the situation worsened in Kalamoun, Ali preferred the refugee life in Lebanon to the constant fear of falling barrels. In mid-March 2015, Ali's family took a three-hour-long journey from Kalamoun to Arsal – North Bekaa, Lebanon. The town was covered in snow and the temperatures extremely cold. Despite the circumstances, the family managed to settle down in a small room they rented for US$300 per month. As the days went by, they spent all of their savings, which forced them to move to an informal tented settlement.
Due to the large number of Syrian refugees in Arsal who were seeking jobs in the construction field, Ali was unable able to secure a job. The father of six could not even afford vitamins for his daughter. "The most frustrating thing in the world is not being able to give your child the medication they need," admits Ali.
However, things began to change a little.
Thanks to UNICEF and its donors France and DFID, World Vision, in partnership with the local NGO "Jousour Al Nour" (Bridges of Light), started the Early Childhood Education (ECE) programme in Arsal in which Jana was enrolled.
The sessions include learning the letters of the alphabet, numbers and songs through games. Children between the ages of three and five, including some who suffer from certain disabilities, visit the centre daily to participate in the activities.
The programme supports teachers with professional trainings to ensure that children with specialized needs are being supported as needed.
Knowing no limitations
Even though the classes are in the second floor of a building, Jana stood out as the child who never skips a class. "She has all the excuses in the world to miss classes, from having to go up the stairs, to other children constantly asking about her leg, but she is so passionate and motivated that nothing is going to stand in her way," says Jana's class teacher.
Her constant focus and enthusiasm in the sessions encouraged her teachers to support her learning experience more and more. "At first, Jana would be sad when it was time to leave, because we had to help her out and it frustrated her," recalls her teacher. "We decided to empower her, and let her walk by herself by allowing her to leave 10 minutes before the class ends."
Jana usually walks slowly out of the classroom, doing this by supporting herself with one hand on the wall, and then drags her weak leg until she reaches the stairs. By allowing her to leave slightly earlier, she has enough time to make it down the stairs, before the other students leave class.
Usually, there's a teacher waiting by the stairs to help her down. The teachers explained to her that the stairs can be a tricky thing for all children, and this is why she needs supervision. Jana was convinced.
"The programme helped my daughter overcome her difficulties. She was empowered," Ali smiles and continues, "I had never heard her sing like this before, and now she sings all the time. This is the happiest she has ever been," Ali says.
Jana no longer avoids other children. She does not isolate herself from her sisters. She participates in the activities that are adapted to her capacity, and sits aside cheering for her friends during activities that she's unable to participate in.
She learned to accept help while proving that she can handle some things on her own. Moreover, she acknowledged that disability does not define her mental capabilities, her relationships with others, and most importantly, her lifestyle.