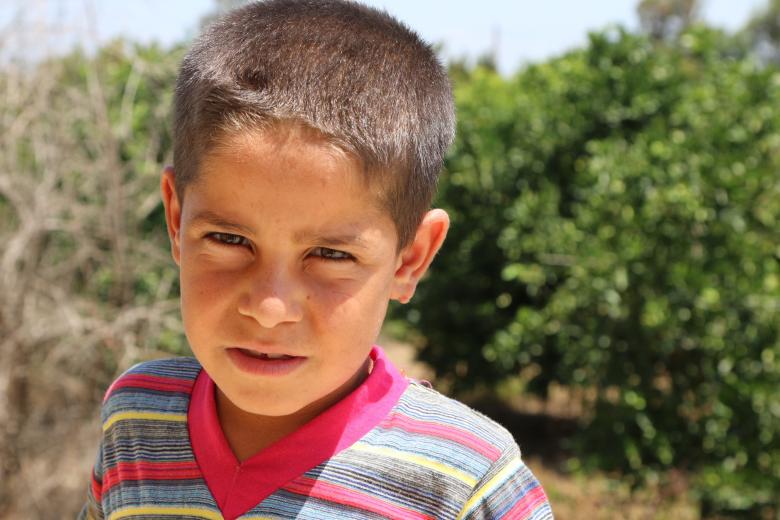 Kassem's new passion
Monday, September 24, 2018
Siblings can be so similar yet very different. Five-year-old Kassem has three brothers and two sisters, including a twin brother Tayseer. They both share a love for soccer and nature, however when it comes to school and studying, they could not be more different. Kassem found his passion in education, his brother, not so much.
In the fields of Akkar, north of Lebanon, where many Syrian refugee families reside in informal tented settlements, Kassem's big family has been struggling to make a living ever since they fled the war in Hasaka. The illiterate mother and father, who depend on working in the fields for income, are paid 1 USD per hour of harvesting.  Their combined monthly income when they work five days a week, a rarity, is 90 USD, barely enough for the needs of one individual, let alone eight. "We resorted to taking money from the Chawich*," Rouwaida, Kassem's mother, said with a somber pause, "and asking our eldest boy, who is almost 11, for help. He works in peeling reeds for 1.5 USD a day." Admitting this brought Rouwaida to tears. She is fully aware that her children deserve a better life; a life where parents support their children, not the other way around. Together the working family members combine efforts to repay the Chawich the 2,000,000 LBP (almost 1333 USD) they owe him. "I fought very hard to keep my children in school, but life took a very bad turn," she says. 
When the World Vision outreach staff informed residents in the Akkar informal tented settlement that the organization was implementing an Early Childhood Education (ECE) programme, Rouwaida encouraged Kassem and Tayseer to join. Thanks to ADH as well as UNICEF and its donors France and DFID, the programme allows vulnerable children, aged three to six, to learn numbers, letters, songs, and colors in both Arabic and English in sessions provided by teachers and assistants.
Kassem and Tayseer attended the first couple of sessions together; however, Tayseer hated leaving his mother's side. He was jealous of how much time she was spending with their one-year-old brother Aasem. Rouwaida tried emphasizing the importance of education to his brother but every morning was a struggle; Tayseer refused to be away from his mother. This did not affect Kassem's determination. "Kassem, however, loves everything about the sessions. He comes home and tells us even the tiniest details of his day," says Rouwaida.  She could not understand why her son was so excited about school until she heard very positive feedback from the teachers.  "Other than being the smartest and most focused student in his class, Kassem has a remarkable memory," confirms his teacher Samah.  Samah was amazed by how Kassem always remembered the minutest information discussed in class. "I love school for many reasons. They teach me to be polite in foreign languages like saying 'Thank You' in English," says Kassem. "I also love memorizing all the songs they teach us," he brags, "and today I wrote all the numbers correctly!"
His mother's fascination with Kassem's behavioral change was obvious. He became more poised, disciplined, and respectful. "In addition to his hygiene habits, he is learning right from wrong, and that's important when you're living among people who are also uneducated," Rouwaida acknowledged. "He could be exposed to many bad habits." She expressed her worries around her children growing up in an informal tented settlement in one of the fields of Akkar. "I wish I could promise them a better future. I wish to be able to promise Kassem that I will pursue his education no matter what, but I cannot. I can't even promise them food or clothes," she whispered, as she did not want her children to hear the bitter truth. "We wish that God helps us fulfil all of our children's dreams".
Although the ECE is designed to introduce children to the world of learning through a fun getaway, not all children get to experience this basic right. Kassem was one of the lucky few to discover his passion for learning through this programme, but he is certainly not the only Syrian refugee with this burning passion.