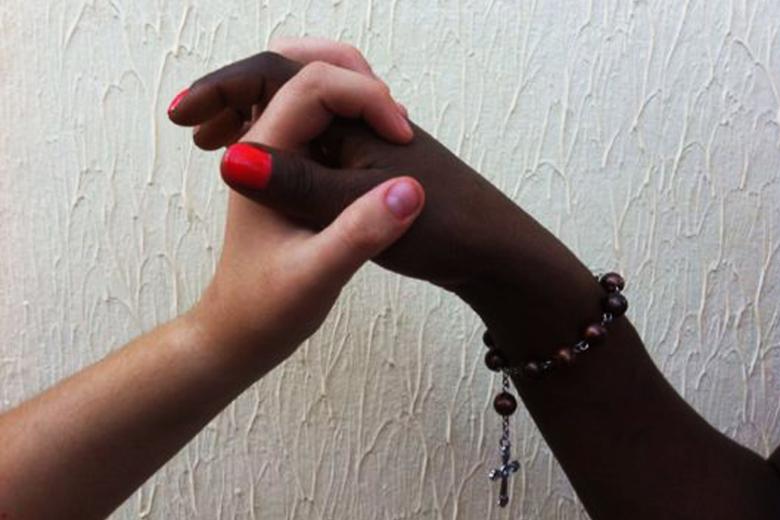 Lebanese youth reject discrimination by writing a book voicing their position
Wednesday, January 9, 2013
In a country shattered by a 15-year civil war and where the sociopolitical system is based on sectarian, gender, ethnical and regional discrimination, 18 members of World Vision's Children's Council  in Lebanon recently launched a photo-advocacy book entitled, " We Stand Together Against Discrimination" in the presence of parents, journalists, media representatives, World Vision staff as well as their peers.
"We should never discriminate between people belonging to different religions, and we must not treat people of other religions in a bad way," says 12-year-old girl, Nour, one of the book's contributors. "We are all the sons of God." 
Children, between the ages of 12 and 18 through their book, reject discrimination against handicapped, black people and women as well as voicing their opinion against sectarianism in their country. 
"When we look at some aspects of our daily lives, we notice that discrimination has become the scourge that is damaging our society. If we do not shed the light on it, it will grow bigger and bigger and will destroy our society," says Mario Stefano, advocacy and child participation officer. 
 "There is no difference between men and women or between boys and girls. Women are the source of power, just like men," says 15-year-old Ghadi, speaking about the photo he captured and the caption he wrote. Ghadi's photo show two you, a girl and a boy, arm wrestling. Neither of them wins, which underscores the equality between men and women. Under the photo, Ghadi wrote: "God made us all equal. Why discriminate against each other?"  
Through his photo, Ghadi sought to fight discrimination against women in particular.  They're discriminated against in social life since they don't have the privileges men have. They are discriminated against in their professional lives since many companies pay for men higher salaries than women, even for the same job and same position. They are discriminated against in political life as they are not really represented in local municipalities, in the parliament, or in the government. Most of all they are discriminated against every day as many women are not allowed to make their own decisions but are rather obliged to follow what others decide for their lives—such as dropping out of school or early marriage.  
The book is the fruit of several months of hard work, during which young people learned about the Convention on the Rights of the Child and took photographs and prepared texts and captions as participants in the Children's Council. The project aimed to equip and empower children to express their points of views after building their abilities in the area of child rights, tolerance and diversity.
Through this book, World Vision give a voice to the children and in a concrete way allows them to raise awareness against discrimination in their community. 
"Blind people have additional needs," says 14-year-old Rana, about her contribution to the book.  "We are in the 21st century and we must not discriminate between a blind person and any other community member." Rana's photo shows a young blind man, wearing sunglasses and holding a stick trying to climb metal stairs. Under the photo Rana writes: "It's the right of people with disabilities to enjoy the same rights as anyone else." As a country that recently faced along civil war, Lebanon is home to many people who became disabled as a result of the war. Yet, disabled people are not really integrated in their communities. They don't have the same opportunities or access to education, jobs, health services and transportation that the able-bodied people have. 
Thanks to the Children's Council, young people-members of the council-have the will to advocate for change in the social issues affecting them. "Children fully understand the dangers of discrimination and its negative effects on community. For this, they strive to eliminate it and that's what made them produce this book," Stefano added.
The 18 young people, involved in the production of the book, hosted the event commemorating its launch and each spoke in turn about their experience sharing their photos and writings. At the end of the ceremony, copies of the book were signed by the children for attendees. Children council members, parents and partners were highly impressed by the work done and the messages transmitted through the book. 
"We stand together against discrimination" is not sold in book shops, it is distributed by World Vision in Lebanon for children, partners and interested individuals.