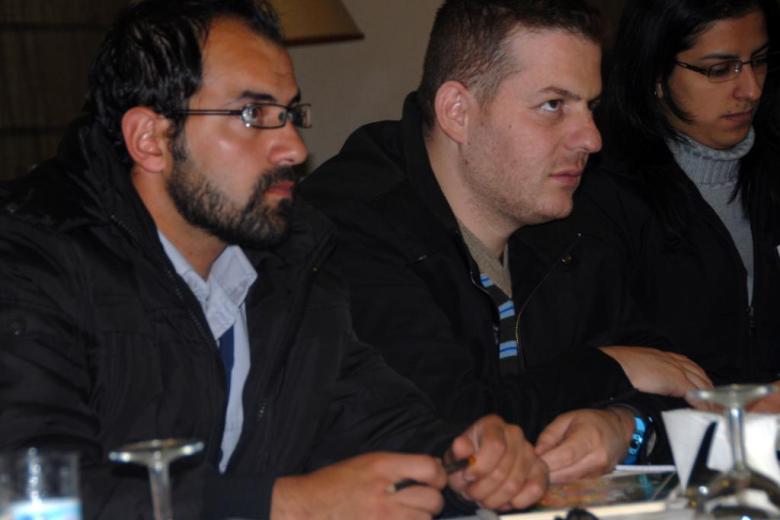 Life skills project improving Bekaa area youth's lives
Tuesday, January 8, 2013
Mohamad from Bekaa area, located in western Lebanon shares his experience of positive change in his life and in the life of thousands of others through World Vision's Life Skills Project.  
Mohamad Agha , 28, has been a team leader in the Lebanese Scouts association for the last three years. He is a bio-medical engineer, who has been attending the life skills training sessions conducted by World Vision in Lebanon in the  Bekaa area (Zahle, Central Bekaa and West Bekaa ADPs), since May 2011. Today, he is attending the fifth training, entitled "messengers of peace." He recently won the life skills competition organized by World Vision through a Facebook application. 
"Life skills training have changed my views towards many issues in life. I was a negative person. Today I look at things in a positive way," said Mohamad. "They made me notice lots of things in life, besides helping me in my job and in my daily life," he added.
Mohamad is one of 21 youth members, representing 13 local organizations and clubs which help reach more than 3,000 children and youth.  The life skills training programme aims to teach youth to lead their organizations; to train their peers, and to set an annual program for their organizations based on life skills.  
"I was applying the new knowledge acquired from the training in the Scouts," he says. "We learned to communicate with others, to plan for our organizations' activities the right way. Since the first day I attended, I was benefiting and implementing every new experience," he adds.
The life skills project was launched in May 2011 to meet the needs of the youth associations in the Bekaa region who were looking for a life skills curriculum and non-formal educational path, tackling topics such as time management, leadership and planning for activities among other things. Youth were trained using the curriculum that is utilized during World Vision's children's summer camps. 
"The life skills training taught youth how to think, how to be more oriented toward planning and how to work inside their organizations," says Maya Lteif, the Life Skills project manager. "Today all youth organizations in Bekaa area speak one language and they possess a unified knowledge that is being transmitted day-after-day to their peers," she adds.  
Moreover, the life skills training allowed organizations to build bridges and partnerships together. "It was quite impossible to make organizations in this area work together. Today, they have become one family. Great bonds were created between them and they are already planning for joint activities," she added. 
"Life skills training help attendees between the ages of 16 and 40 to acquire skills that are for life, covering five areas of personal development: intellectual, social, emotional, spiritual (existential) and physical," explained Hammad Sioufi, the trainer. 
After these sessions, youth representatives will be able to train their peers on life skills. They must first set a yearly plan for the activities and training inside their organizations. "Youth are not only receiving the training, we're following up with them on the plans set, assessing the latter and giving them all needed support till they become totally independent and able to manage their organizations," he added.
As a way to test to the youth's knowledge in a fun way, World Vision developed an online competition through a Facebook application. The competition was educative and entertaining and at the same time seeking to empower the youth. It was composed of three levels. Candidates had to pass all levels in order to win. 
"The competition through the Facebook application was a great idea. I had to read all the information and notes again to refresh my memory and thus an effort should have been put in order to win," said Mohamad, the winner of the online competition.
"World Vision, through these training sessions, not only made us partners, but also efficient ones," he added about the experience of the Lebanese Scouts association with World Vision in Bekaa area.