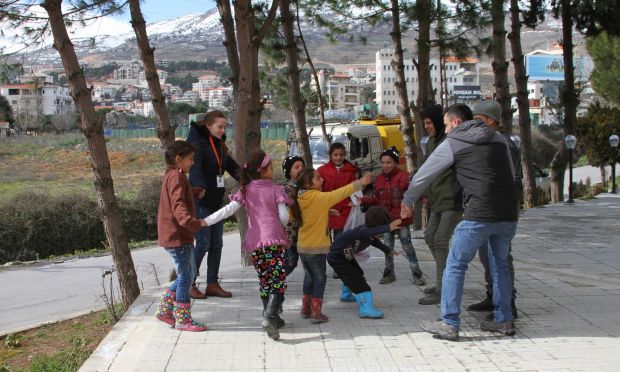 In every refugee crisis, there are thousands of different stories of people who experienced the worst hardships. Forced to flee their country, Syrian refugees in Lebanon are doing their best to live a decent life, against all odds. In normal situations, the father is the income provider. However in some households, he may be unable to work due to an injury, trauma, illness or the lack of job opportunities. Unfortunately, children are having to pay the heavy price and work on the streets selling different items. Supported by UNICEF and the EU Regional Trust Fund 'Madad', World Vision in Lebanon provides children who are at risk of child labor with psycho-social support sessions.
Twin brothers Bakour and Mhammad, 14, work on the streets in Bekaa selling tissue papers. "Usually, we start working at 10 in the morning and finish around six in the evening. The conditions are difficult, but we must do it to support our families," they both emphasize.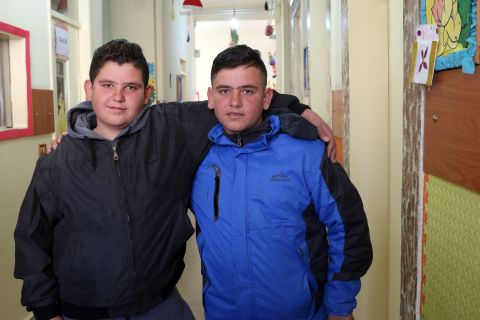 Mhammad, whose dream is to become an engineer one day wants a fresh and new start in life. "I want to travel to the United States. Hopefully, we can have a better life there," he says. As for Bakour, his dream is to become a pilot, and he is quite aware of the importance of education. "I know that education is the key to success in life, but for now we have to work to support our families," Bakour stresses.
World Vision in Lebanon staff met Bakour and Mhammad during the community-based psycho-social support activities. Many of the working children there are engaged in the worst forms of child labor. In order to reduce the risks on these children, World Vision, supported by Unicef and the European Union, provides children who work on the streets with Community-based Psycho-social Support (PSS) in an already identified safe space.Through the Child Protection programme, World Vision aims to raise awareness around the safety of children. These children are referred to the centers where they receive focused PSS support. Children with alarming cases are then referred to specialized case management services, through a social worker present at the center. World Vision also engages with the children's caregivers and the communities where they live, through tailored training to ensure that children grow up in a protective environment that helps their safe development.
"We have never been approached by a humanitarian organization before, but when the World Vision staff asked us to join the sessions, we immediately trusted them," Bakour recakks. "This is our second session at the center and I am finding the programme extremely helpful," Mhammad Adds.
At first, we had some challenges reaching out to the children and earning their trust as well as that of their parents. These children go through a lot while working on the streets. They can't easily trust anyone approaching them, but the project's field team succeeded in encouraging them to join," explains Pamela Daoud, the programme manager at World Vision.
Rwaida, Mhammad and Bakour's mother paid a visit to the center just to understand what her children are learning. "I really want them to go back to school, but financially, it's hard," she admits. "We lost everything because of the war, including some of our family members. We do not have a home to go back to. My husband has diabetes, and his eyesight is weak," she continues. It's impossible for him to work, so I had to send my children to work," she confesses.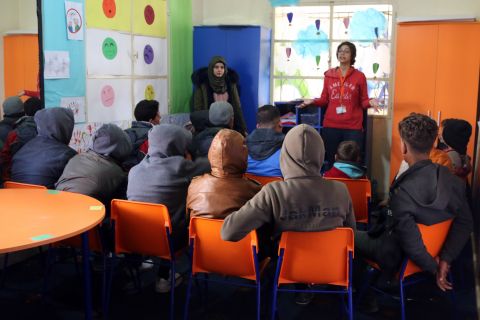 Michelle, a social worker in the program teaches the children the importance of communication and respect to resolve problems, rather than resorting to violence. "Some of these children lack the basic principles of being respectful to on another. They use violence to resolve their problems," she explains. "The children also receive life skills sessions, and we noticed that the small lessons are leading to change!" She continues, "our goal is for the children to learn how to be respectful, identify safe and dangerous places. I introduced them to drawing and painting and through their drawings, we are able to recognize if they were subjected to any sort of abuse. Drawing can help us identify the issues they are facing and set our objectives with every child." Michelle explains.
With support from UNICEF and the EU Regional Trust Fund 'Madad', World Vision supported 121 children who are at risk of the worst forms of child labor in Bekaa and refer 84 of them to centers where they receive life skills such as building their self-esteem, promoting resilience, and coping mechanisms.