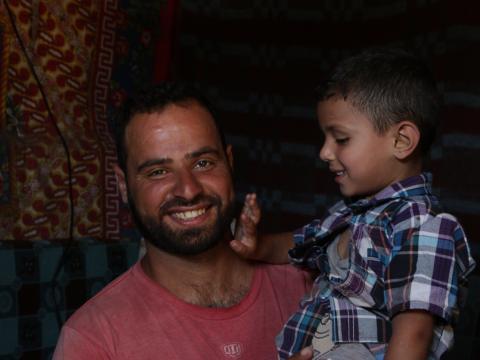 From Tez to Moatez
Monday, July 9, 2018
As soon as the classroom's door opens, the first child to interact and speak his mind would be Moatez, a 5-year-old Syrian refugee boy living in Lebanon. He was the first to eagerly raise his hand with a huge smile on his face. One can't but smile back and greet the little boy. It is hard to believe that when this very boy arrived to World Vision's early childhood education (ECE) center in Beqaa, he was unable to say his own name. Now he is one of the most active students in his class. Funded by Kuwait Foundation for the Advancement of Sciences (KFAS), the ECE programme teaches children  numbers, letters, colors, and songs in a fun and peaceful environment.
"When Moatez first arrived to the class, he didn't speak a word. He only referred to himself as TEZ, unable to say his full name" his teacher Adla said. Moatez is born to a deaf and mute mother. He wasn't exposed to speech except when his father was around. He only knew the sign language which he used to tell his mother what he needed. His father tried to catch up on his education but was unable to help him.
Ahmad, Moatez' father, is 28 years old. He suffers from a brain disease and can't survive without his medicines. Ahmad brought Moatez to school and insisted on enrolling his child despite the difficulties in speaking. The teachers at World Vision's center took up the challenge and focused their efforts on bringing Moatez to utter his name correctly.
Bit by bit, they helped him succeed.They used various ways where they made him listen to their words while covering their mouth so he can imitate the sound rather than the movement of their lips. This proved to be an excellent approach when teaching Moatez to find his own voice.
Moatez is still in the process of learning how to speak. He now says his full name and can express his needs in words which is a vast improvement. "I wish Moatez a happy life, that's all I care about. My whole life is now dedicated to making my children happy" his father continued "Whenever I had an episode, I used to scream for help but my wife, being deaf, wouldn't hear me. Now, Moatez comes for my rescue. He brings me the medicine and sleeps next to me until I feel better, he is a great kid."
It's all about these little success stories with impact beyond words. Around 500 children aged between 3 and 5 take part of the programme and each one of the students gets all the necessary skills and attention to strive in his surrounding. Looking at the future, one can only pray for Moatez's next big challenge: writing. He is not there yet, but World Vision has no doubt that a kid like him will break all barriers with the support of his parents, teachers and the community.