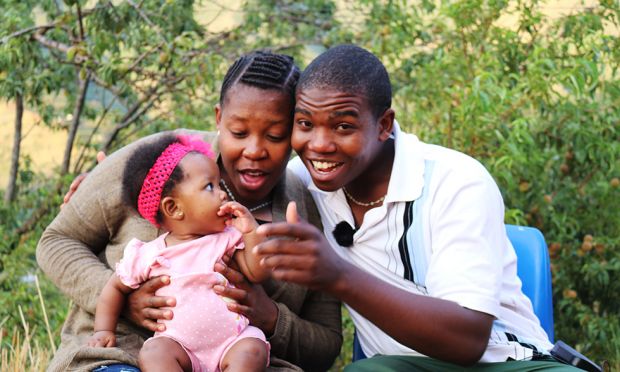 "My passion is to see children go to school because I know that education is a key to a better future" Matsoso ( 22), a former sponsored child now a taxi owner from Kota Area programme in the North of Lesotho is keen to see children in school because he believes whatever they do in life should be founded on their education. His daily duty is to fare school children to and from school because he believes it is the right business to do , it affords him the opportunity to also contribute positively in their education.
It is 4 a.m. in the morning on a Friday and Matsoso is already warming upon the taxi popularly known as "Quantum" outside his home in preparation for a take-off in a few minutes to pick students to school. Pickups are at different places by the main road where the students wait in twos and threes or even more. Music in the car is the order of the day, otherwise it will bore them to the core.
If it happens that they are late in arriving at the pickup point, his hooters and waits for a few minutes. The same thing happens even after school except that this time there is no hooter lest he disturbs the teaching and learning at the school.
"I make sure they get to school on time for their morning lessons and get back home safely after school. After dropping all of them at school, I take one or two passenger trips to make some small income and heads back home to wait for after school pick-up. This is because apart from the fact that the taxi industry competition is tough, the students are the main reason why the taxi exists in the first place "he added.
The former sponsored child now shares his home with his wife, their 6 months old baby and her sister, whom he still supports financially. As a sponsored child at 7 Matsoso used to receive food, clothes and toys from world vision. But moment he will never forget his entire life is when his sponsor would send him money to spend on himself.
"I would buy myself the kind of shoes which under, my family could not have afforded and that used to make me very happy. If my sponsor were to come here now, I am not sure how I would react , I would be overwhelmed with joy. I know My business has not yet reached a level where I can sponsor a child but it is my dream which I believe God will make it happen ." he said.
Matsoso now owns two taxis which he bought out of the mining funds he and his siblings inherited when his father who was a mine worker passed on.
Growing up, h like in Many Basotho families, farming was their source of living and because it was left in the hands of his mother alone , it was never good enough for them to have enough food at home let alone sell anything. This means a lot of times they would struggle to make ends meet. When his father passed on, they inherited funds from his mining benefits.
"As a teenager , I would have easily eaten the money , but I then deposited it in the bank just to give me time to think how best I can utilize it up until the idea of a taxi came along. I made the decision after waiting for two years," revealed the growing businessman who is now working hard to support his family who entirely depend on him.
Inspired by what World Vision has done for him and other sponsored children, he also wants to give back by sending one or two children to school.
"It is my dream to also send other children to school , God helping my business to grow "he added.
Matsoso graduated from the Lerotholi Polytechnic and has a certificate in motor mechanics, a motivation that saw him venture into taxi business.
As a growing businessman his parents would be proud to see him , forging ahead to make a name not only for himself but for his family , that include his 6months old daughter , his wife and his sisters.