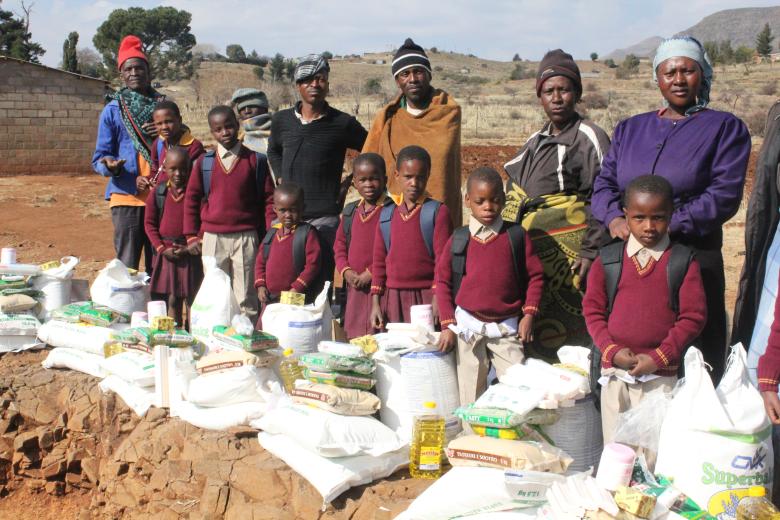 Mpharane Area Development Programme Provide New School Uniforms
Thursday, October 4, 2012
It is 11:30am at 'Masemousi primary school. Children sit or stand in groups eating. Some sit inside a fallen classroom. Others sit by a classroom block whose roofing has been blown away. Further up, a group of boys and girls sit around an old mud church whose roofing seems to be leaking. It is Friday and their lunch is Pap (corn porridge) and milk.
They see a private van loaded with maize meal. They seem to be wondering, what the van could be doing at their school. Behind a van approaches a World Vision vehicle and the children begin shouting, running around chanting phrases of thanksgiving, as if to say, "it is World Vision, our helper".
The bell rings. The children gather around a playground and a teacher reads a list of names "All the pupils whose names I have read, please report to class 4.The rest of you please disperse to your different classrooms," she announces.
"On what grounds are you picking these names?" I ask.
"These are the children whose backgrounds put us as teachers in a dilemma. In most cases, we are not able to assist them. Some come to school wearing light clothes under very harsh weather conditions. Others come bare footed. When I dig out information on why they come to school like that, I hear lots of unpleasant stories that make me cry. I just did not know how to assist. World Vision is like God sent," replies the principal Mrs. 'Maletsabisa Mohale.
"Is there any particular reason you decided to have lunch at the school?" I ask. "A lot of these children fall asleep in class. When I ask why, a lot of them come to school without having eaten breakfast. We decided then that It is better to have an earlier lunch," she reveals.
While we were talking, the pupils who were ordered to disperse are gathered around a window for class 4. They seem curious to know what their peers were called inside for.
Inside the classroom, their colleagues are fitting themselves with new school uniforms.
Thapelo, 9, is among those trying on the new clothes. A smile on his face says he does not believe what is happening. The boy has been in and out of hospital for the past two months. He was diagnosed with pneumonia recently.
"He used to come to school in a very cold weather wearing shorts and a shirt. As teachers we had to contribute to buy him a long trouser but it is also getting old," continues the principal.
Thapelo stays with his father who is unemployed. His mother died two years ago. He is the last in the family of seven and the only one still in school. His two sisters Lerato, 20, and Mpho, 18, went to the capital city of Maseru seeking employment but never returned home. His sister Neo, 16, is attending a boarding school at Mohale secondary. She received a government scholarship through the assistance of the Mpharane ADP. His brother Teboho, 19, was arrested for illegal mining in South Africa. Another brother, Motlatsi, 12, is employed as a herd boy.
He is among 30 orphans and vulnerable children who are receiving new school uniforms and food packages from World Vision.