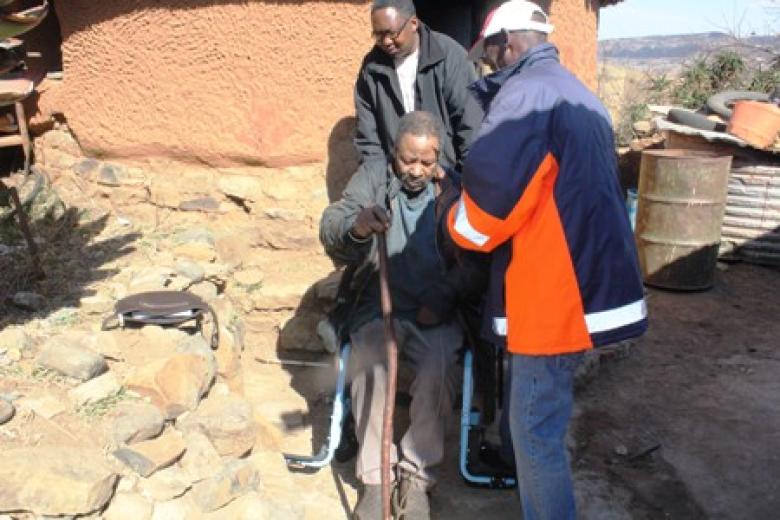 A wheel chair saves an old man's life
Tuesday, September 10, 2013
 " I want to thank World Vision for saving my life. May God bless you for what you have done for me. I can now use this small ' donkey'  to get out of the house and see sunlight.I can now socialize with my neigbours, whom I have not seen  for a long time"
Mr. Sebaka (80) stays alone.  Most of the time he stays indoors because to get out of the house , he needs somebody's assistance. He cannot walk because his left leg and the arm are paralyzed due to stroke. When he hears voices of people talking outside , he wishes they can come to just say hello. To get water to cook himself something,  he depends on good Samaritans to bring it to him, even to get paraffin to warm the house and even cook he also depend on god Samaritans to get him paraffin from the shop.
" if no one turns up, I sometimes go for days without food." He reveals.
It is a Thursay morning, Mr. Sebaka has just woken up. He sits on his bed and when he hears voices of people, heplooks through the door wondering who they could be. He is not used to getting visitors. When he sees a wheel chair  offloaded from a world vision car, he could not believe his eyes.  He thought he had been mistaken with the person who was supposed to be given the wheel chair.
" when I finally learnt the wheel chair is for me,  my heart skipped with joy. I could only see God sending me angels to rescue me. I know God has his own way of taking care of His people. " he said. I now feel like a free man who has been kept in house against his will. I run short of words to explain how I feel." He said looking down trying to control tears running down his cheeks.
The Old man's entrances were however too small for the wheel chair to go through and Kota ADP had to reconstruct them.
"We were prompted by our core values , of being responsive and  it is because we value  them that we felt we needed to help the old man." Says the GIK Coordinator Mr. Lethata Mofolo.
Mr. Sebaka had stroke after the death of his wife and has been confined to the house for a long time. The wheel chair given to him by World Vision has enabled him to socialize with other people.