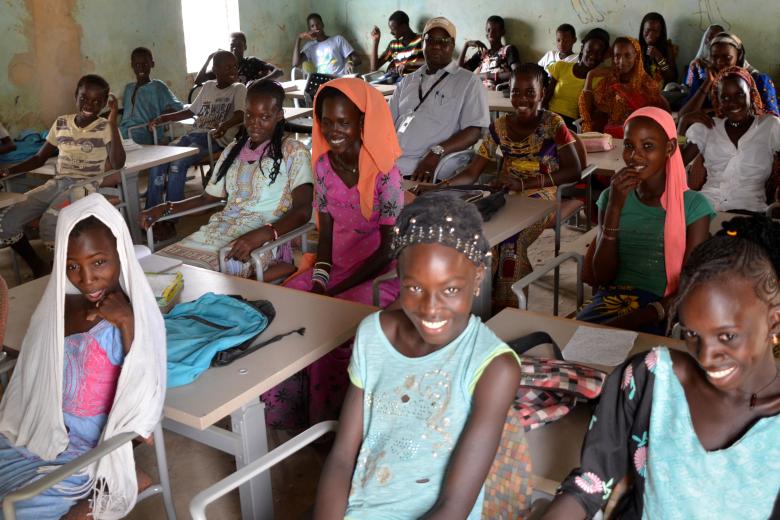 Education and strengthening household's resilience in the village of Silbé: a challenge successfully achieved by World Vision Mauritania
Friday, May 26, 2017
Located in an isolated area and far away from any sign of urbanization, is where the village of Silbe in the district of Oulbirome is standing. Like it is the case for the whole commune, this village suffers from the absence of solid school infrastructures and kindergartens for young children. In reality, the local primary school which is in a much worn out shape has only two classrooms. The first two levels do not exist for lack of teaching personnel and the four other levels are combined in two multi-grade classes where we have 3rd and 4th grade in one class and 5th and 6th in the other. The school severely lacked logistical materials: sitting benches, chairs and other equipments which caused for many children to write on bare soil in classes that held too much students.  
"As you can see, in one of the classrooms students still sit down on the ground, on mats because there are not enough sitting benches for everyone since the number of students is too high. There are only four levels, from 3rd to 6th fundamental grade. The first two grades do not exist because of lack of teachers. Every two grades are gathered in one room and there are only two teachers including myself to teach all four levels. There was too much disturbance and disorder and children were not in good conditions to learn anything", confessed the director of Silbé's primary school, Daouda Abou Ndiaye.
In order to improve the conditions of this primary school's students and to ensure them a better access to education, World Vision Mauritania supported the school with logistical materials and furniture. Indeed WV Mrto Area development program (ADP) in Dar El Barka brought chairs, sitting benches, lockers and billboards along with school furniture for the well-being of these children. In addition, with the support of World Vison U.S. WASH project, latrines were built inside the school.
Children are more likely to produce and learn at school than before like it is attested by the school director. "Students sit on comfortable sitting tables ever since World Vision Mauritania brought us the logistical materials and they are more concentrated and their handwriting is much better than before. As a consequence, there is less and less cases of absence in the school and there is also less disturbance and disorder. Of course, the school still lacks some other materials since there is no office for the director or a storage unit and there are not enough rooms. However, I believe that this support from World Vision that I thank so much, had and will continue to have a significant impact on the education of these children and their level of productivity at school", mentionned the school director.
In addition to that, the Dar El Barka ADP also built a community development center in the village of Silbé. The issue is that under 6 years children did not have a kindergarten and they used to go play in the forest or by the Senegal River, which was very dangererous for their safety.
This children's hut contains a preschool learning for them and it was equipped with all the necessary material so that the children feel comfortable. They nourished every day in this center thanks to the contributions of their mothers and the support of World Vision Mauritania. This center is more like a community development pole that gathers several activities: the nursery, the nutritional hearth and an income generating activity which is a refrigerator for the use of the local community.
"There was no nursery for children or a place where they be in Ouldbirome district and the only place where the child could go is the Koranic schools. Once he's done, the child has nothing else to do but to go play in the corn fields, in the woods or even by the lake. Now that we have this community development center, the local women bring their children in every day during the whole year because they feel better in the center. Children are initiated to preschool education and they are well nourished thanks to the participations of their mothers who bring healthy food. I personally believe this is the best thing that ever happened to these children because I have noticed the impact. They come here willingly because they feel at ease in the center. I thank World Vision for these valuable actions", declared the supervisor of the center, Fatoumata Gueye.
Moreover, World Vision Mauritania built a storage warehouse for harvest and food products in the village of Silbé. In addition, a fence close was set around the local garden and agricultural material like shovels and pickaxes along with two motor pumps were distributed on farmers. On the other hand, the village also benefit from a goat project which contributes to the reinforcement of household resiliency, 200 child benefited from it.
WASH activities for access to water and sanitations were also conducted in the village. In fact, the local school and medical facility benefited from two water extensions. The health point also benefited from a latrine bloc and an amount of 200.000 Um to buy medications. The ADP distributed impregnated mosquito nets to fight Malaria along with technical and financial support for local rice farmers.