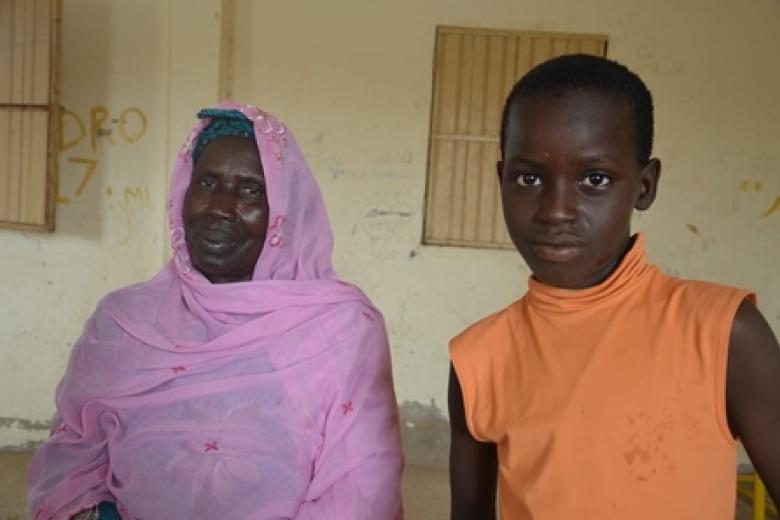 Schools of Nouakchott Suffer after the Official Opening due to Flooding
Friday, November 8, 2013
 After the official opening of the school year 2013-1014 in Mauritania, many schools are still hardly accessible because of the floods in the most affected areas of Nouakchott. World Vision Mauritania in coordination with the local authorities has been devoting more focus of its emergency intervention to cater for this situation. A situation that has been negatively affecting the school opening, especially in Sebkha where most of the public schools were flooded.
Ould Ahmed Zeidan School is one of the educational facilities that has been benefiting from World Vision intervention in Sebkha. The school was completely flooded during the last heavy rainfalls in Nouakchott, and the access was almost impossible to the school.  "We could not open the school on time this year because of the floods," said Diarra Mamadou, the school director.
He added that parents and students came on the first day of school, but when they saw the dirty water surrounding the classes they decided to keep their children home until the situation gets better: "Students are eager to start their classes, and they come every day to monitor the situation. Hopefully, with the assistance of World Vision we will be able to actually open next week, and the 434 students enrolled in our school will be able to start attending classes" Diarra Mamadou, Ould Ahmed Zeidan's School's Director.
Aissata Bah (61 years old), who have six children enrolled in this school, comes on a daily basis to check if she could send her children to attend classes. She says that she came last week on the opening day, but the water prevented her even from coming any closer to the front gate. She emphasized that "the water level is clearly decreased after the pumping rounds that have been conducted by World Vision.  However, a huge work to disinfect the school and classes is really needed to keep our children safe from diseases that could be caused by this dirty water." Aissata was accompanied by her 9-year-old son, Mohamadou Sy. Mohamadou was roaming around to check out his new classroom for this year. He affirmed that all his friends would really like to start classes very soon.
World Vision Mauritania has been responding to this critical situation, and Ould Ahmed Zeidan's School has been benefitting from World Vision's response activities. Amadou Malick Bal, Sebkha ADP manager states that "this school has benefitted from 35 rounds of water pumping already, and another 25 rounds is planned to completely pump water dirty water out of the school. Moreover, 10 trucks of sands will be used to backfill the area where water pumping is done, and we are also in the process of hiring an external company to disinfect the whole area of the school."  The person hired to disinfect the school is in the process of evaluating its situation to plan for the execution of his task.
Sebkha ADP manager added that this intervention is part of World Vision's response to the floods in Nouakchott, and that this has been greatly reinforced by the donation of a local donor (Bank Mauritanienne pour la Commerce Internationale, BMCI) who has donated 20.000.000 MRO (about 65.000 USD) to help World Vision Mauritania respond to the floods in Nouakchott. This fund has been directed to pump water out of the most affected schools in the communes Shebkha, El-Mina, and Tevragh Zeina.