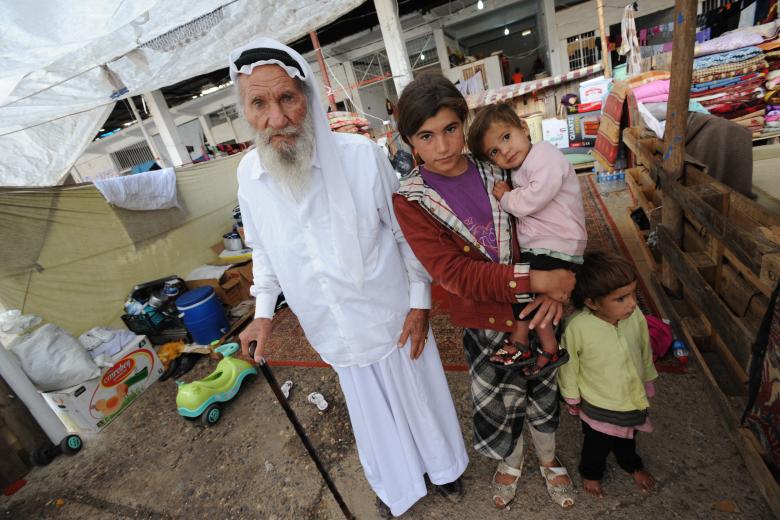 Winter coupled with inadequate shelter, threatens thousands in Iraq
Tuesday, October 28, 2014
"We don't need anything else…but please, just help us for winter," a mother pleads.  Wadha and her family are living in the open, with only some plastic sheets, cardboard and wooden pallets to protect them. 
Her eldest son, Majdi,* 20, and his wife, Amina,* 18, welcomed their first child three weeks ago.  They have not yet named her.  In a place where life is fragile and fleeting, the family patiently waits before committing to a name as naming is contingent on survival, which for this baby is anything but guaranteed.
After fleeing the Sinjar district in Iraq's Nineva Province last August, the family (among them two pregnant women and an 80-year-old elderly uncle) walked slowly but steadily for 15 days.  There was no option to run.
"I left with nothing," says Majdi. "Only a bottle of water, and this shirt," he says, tugging on the button of a worn dress shirt.
"I left with nothing... Only a bottle of water, and this shirt," says Majdi.  
In the chaos of fleeing, several of their family members were killed or captured, including Majdi's younger sister, only 12.  Her twin sister escaped – but others in their family were not so fortunate. 
Their uncle, Barakat, 80, is the only member of his immediate family to reach safety."Thirteen of my family [members] were taken," he says. He is elderly and leans on a cane.  His children and grandchildren are missing, captured by militants.  He nods towards three children standing nearby.  They are his nieces: Amira*,10, Ahlia*, 3, and Aziza*, 2.
"Their mother is with [militants]. Their father is dead. They killed him," he says resigned.  "We are alone now."  
Since arriving in Dahuk, two months ago, they— like others—have eked out an existence, relying on the generosity of others, including local authorities who have provided them with bread and clothing. But with winter approaching, they do not have appropriate clothing and the plastic sheeting that brought them shade in the heat of summer will not be enough to protect them when temperatures drop below zero in this mountain town. 
"We need heaters, shelter, something to protect us," Wadha implores. 
"We need heaters, shelter, something to protect us," Wadha implores. 
Having completed fifth grade, Majdi and his brother Amer*, 18, like their father, earned a living as day labourers when they lived in Nineva.  But finding work in the Kurdish Region has been difficult.  "We don't have anything now – there is no work, no money…." Said Majdi.  
Many families have sold personal belongings, like jewellery or watches, for money to buy food.  Some parents send their children to sell gum or wash car windows at stoplights.
In recent weeks the number of displaced persons in Iraq has reached 1.8 million.  The United Nations says that at least 5.2 million people are in need of humanitarian assistance. 
The UN has also reported a $360 million funding shortfall in order for them to provide interventions that could protect people during the harsh winter.
In this informal settlement of more than 100 families, there is no proper sanitation or latrine, some children and elderly defecate in the open and there is no proper place to bathe.  Unseasonal heavy rains and a lack of necessary drainage have led to flooding and increased health risks.
As the days grow colder, experts predict about half of the vulnerable population will be in need of medical care, with an increase in respiratory tract infections, like influenza, bronchitis, and pneumonia.  Poor hygiene too can lead to skin infections, such as scabies, and without hot water, hypothermia and frostbite.
For families like Wahda's who are caring for the most vulnerable, infants and the elderly, much needed winter interventions could mean the difference between naming a granddaughter or the unthinkable fate of potentially having to bury her. 
World Vision is working to assist Barakat's extended family, and more than 100 other families living at this site in Dahuk, by providing much needed winterization items including blankets, carpets, and tarps.  In coordination with other agencies, water, sanitation, and hygiene needs are also being met.
*Names have been changed to protect the identities of the individuals.