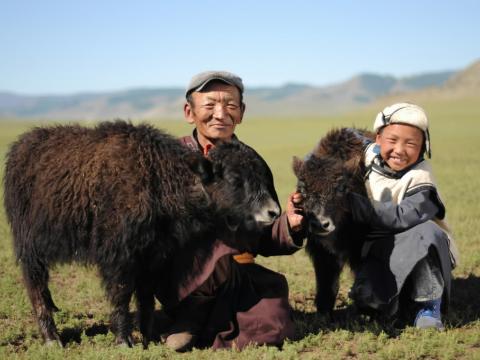 About Us
World Vision's first involvement in the country of Mongolia was to send a 20 foot container of critically needed medicines for use in their clinics and hospitals in July 1991. This project was initiated due to the fact that the entire country was experiencing a serious shortage of drugs and medicines, resulting in a rampant spread of disease among the population of about 2.1 million.
Two new projects opened in FY93.  The Mongolia Emergency Snow Storm Relief was developed in response to the severe snowstorm that hit Gobi Altai Aimag in March-April 1993.  The storm killed over 207,000 animals valued at $617,000.
WV has been operational since 1993 with the formalizing of a country office in 1995 to establish and direct development, and other specific sectoral programs.
Today WVM has proven to be a Non Government Organization (NGO) that is 'child focused and works with the poor.' WVM has been consistent with this ministry and to date is recognized as one of the leading NGO's within Mongolia.
The programs developed by WVM in cooperation with the beneficiaries, children, adults and communities are now accepted as being credible, realistic, functional and long-lasting with significant results being seen in both individual and community units.  The Mongolian government also recognizes the excellent programs that WVIM has instigated throughout Mongolian society.
While Mongolia currently represents one of the better examples of an emerging democracy, the poor and vulnerable continue to face considerable challenges as they seek to establish themselves in the new international environment and seek to provide  'life in all it's fullness,' for their children.