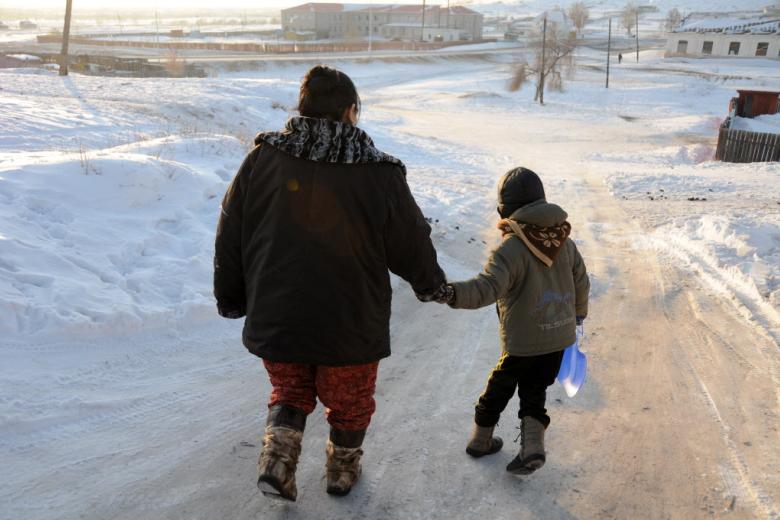 A Chance for a Normal Life: One Boy's Struggle
Tuesday, December 3, 2013
By Xenia Davis
"Telmen was with his mother until he was two years old. After he suddenly got seizures, his mother did not want to care for him. I wanted to care for him and his mother left him with me. We don't know about his father," shares Uuriintuya Natsag, 54, about her beloved grandson.
It is 8:00 am on a frigid winter morning in Sukhbaatar soum of Selenge province in Mongolia, about 30 kilometres from the Russian border. Eight-year-old Telmen prepares for school just as the sun touches the horizon. 
"I go to school at 8:30. At school I like mathematics and Mongolian language," pipes in Telmen, with a slight twitch of the mouth. Telmen limps across the simple two-room house he shares with his grandmother and great-grandfather and takes his school uniform out of the closet.
Although Telmen is disabled, his health situation is much improved since he registered with World Vision's sponsorship programme in 2008. 
Telmen has hydrocephalus, or "water in the brain," a condition where a build-up of fluid inside the skull leads to brain swelling. Telmen's hydrocephalus caused paralysis in his hands and feet, severely limiting his development and making him virtually dependent on others for care.
"Life for disabled children here is very difficult. They need extra care. A lot of people like me are unemployed but are not at the age of retirement. I only receive 50,000 tugriks [35 US dollars] a month from the government for caring for him," Uuriintuya states painfully.
In order to relieve the build-up of fluid and give Telmen a chance at a normal life, an operation was necessary, but Uuriintuya's paltry income was just not enough to cover it.
"The World Vision sponsorship programme helped a lot because it helped Telmen get the operation on his brain. As soon as his sponsor knew Telmen's health status, his sponsor wanted to help. The operation changed his life. Our family has received much support from World Vision," Uuriintuya happily declares. Telmen received the operation in 2009.
With the thermometer reading, grandma and grandson bundle up before heading off to school.
"I have many friends. I play puzzles with my friends. Between classes we go to eat something together. I usually have lessons of drawing and singing after school," Telmen says as he excitedly bounds into the classroom.
"Last year Telmen was not able to write any letters. He now knows all the letters in the Mongolian alphabet and can read some words," says Enkhtur Khurelsukh, Telmen's 2nd grade teacher. "He is very friendly with his classmates and his friends help him a lot to read and to write."
Before the operation, Telmen attended a special kindergarten for disabled children supported by World Vision, which helped his development. Today, he's in a normal classroom.
"This school has 18 disabled children. Eight are in very difficult situations and Telmen is one of the eight. World Vision conducts training for children and their families, good parenting and care for disabled children," shares Altantuya Khand, the school's social worker. 
Altantuya has known Telmen for the last two years, witnessing some of his improvement. "He's become more independent. Last year he was dependent on someone to go to the bathroom with. Now he's able to go alone," she says. "When it's warm, he comes to school alone and goes home alone, and during the winter with his grandma."
Back at home, Telmen stays busy. "I do school homework. I help my grandma to pick wood and water from the water tank and wash cups. I play outside for a little bit and watch TV," Telmen explains, putting away his school uniform.
As Telmen helps his grandmother in the kitchen, he talks excitedly about his sponsor. "My sponsor sends letters, postcards and photos. I feel happy and I want to say thank you."
Telmen takes a break from chores to play with his cousins who are visiting from Ulaanbaatar, the capital of Mongolia.
Along with Telmen's health, the family's economic situation is also improving. Telmen's grandmother has six children, and in times of financial struggle they are always there to help. In 2012, Uuriintuya became involved in an economic bee-farming project carried out by World Vision Mongolia's Selenge Area Development Programme. She received her own bees and benefited from training on how to care for them and harvest honey.
"I am involved in this project because I think it will help. I hope to get some income and to be a little bit independent from my children," Uuriintuya shares. Smiling, Telmen pipes in, "I'm not scared of the bees."
The special bond between grandmother and grandson radiates warmth throughout the house. Uuriintuya's hope for her grandson is simple yet powerful. "I want him to become healthy and a good person."
As for Telmen, his future is not without his adored grandma. "I want to become a company boss. To have a car and drive my grandma."