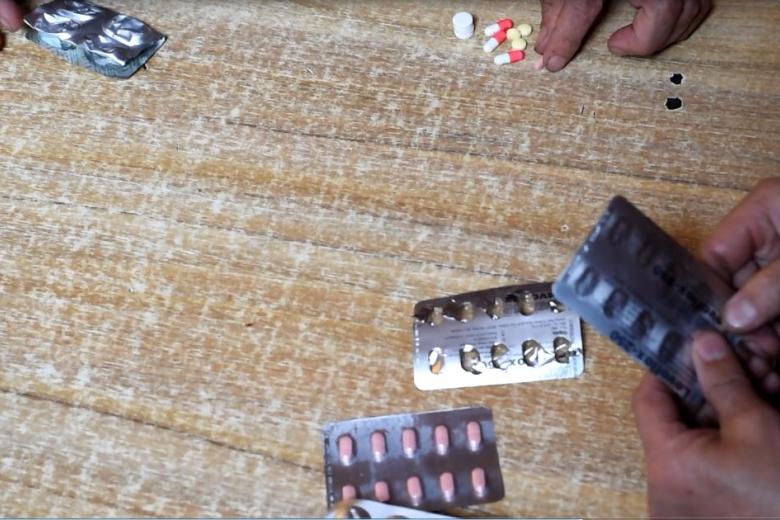 Defeating tuberculosis and alcohol addiction
Thursday, March 24, 2016
The tuberculosis (TB) treatment center for homeless, alcohol addicted people was established in 2011 by World Vision International Mongolia (WVIM) and run by a local NGO called "Palace of Hope". It is located on the outskirt of Ulaanbaatar where the air is clean and fresh.
The NGO also serves for alcohol addicted homeless people to live at the Betel Center for some time and to be freed from alcohol addiction. Beneficiaries are encouraged to be involved in various kinds of work at this center and they take it in turns to do their work. They are not allowed to smoke or drink alcohol during their stay at the center.
In the treatment center, a man in his fifties talks in soft voice about his past. Scars on his face are due to a car accident when he was driving under the influence of alcohol. He has encountered many challenges in his life. He wears blue pullover and an old jeans trouser.
Mr. Bold* was a Russian language teacher at a secondary school of rural province. But due to his heavy drinking behavior he quit the job and his wife divorced him more than a decade ago.
"I was a heavy drinker and smoker. My life was totally broken" Mr. Bold said.
He first learned about the treatment center from his fellow drinking friend who lived at the center for a year and was freed from his addictions. After hearing about the center from his friend a few times, he decided to go there to be freed from his alcohol addiction. He started smoking when he was 16 years old and he has been a heavy smoker for about 40 years. Since he came to this treatment center he quit smoking and drinking.
"The first week was very difficult for me. I longed to smoke especially after eating food. I learned smoking is number one enemy for the lungs and now I understood it is possible to live without drinking and smoking."
A few days after coming to the center he had fever at night and was coughing badly. Shortly after that he was diagnosed with tuberculosis (TB).
"When I heard that I had tuberculosis, I thought that I was going to die soon."
Tuberculosis is deadly disease but it can be treated if patient takes medicines without interrupting for at least 6 months. TB is causing the deaths of nearly one-and-a-half million people each year worldwide, mostly in developing countries. It means almost 3 people are dying in every minute because of TB.
Mongolia is one of the high TB burden countries in the region. Last year 4,270 new TB cases were reported in Mongolia, which counts for 7.2% of all infectious diseases. Nearly 60% of them are reported in the capital city Ulaanbaatar alone.
World Vision Mongolia (WVIM) has been working as a sub-recipient of TB grant from the Global Fund to fight against TB and HIV/AIDS. Under this grant WVIM collaborates with Enerel hospital, which serves homeless people, the prison hospital, and some NGOs including Palace of Hope.
Homeless TB patients and prison TB patients who have been treated in a hospital continue receiving their treatment at the Palace of Hope treatment center. TB patients are required to take medicines for at least 6 months to 2 years depending on the form of TB.
Palace of Hope has been working together with WVIM for 5 years on the TB project to treat homeless patients and patients who have been released from prison.
Twenty-two people have received their continuation phase treatment at this center since its establishment and 73% of them are completely healed, which is a very good result among homeless patients with TB. Usually homeless TB patients interrupt their treatment after being released from the hospital, which is dangerous as TB can become resistant to drugs. Drug resistant forms of TB require a much longer time and a more expensive treatment than the regular TB.

"I am so grateful for World Vision and Global Fund TB projects for providing us everything necessary to cure TB including medicines. I am completely healed now. I would like to tell other people that please do not throw away the medicines. It is for you. Have faith to be cured," encourages Mr. Bold.
At the center people are not only receive treatment of TB, but they are also receive free food and protein supplements. They can also take part in weekly fellowship with other patients.
Currently there are 5 people living at the treatment center receiving TB treatment.
One is 46-year-old Mr. Bayar* who said, "I was weighing only 36 kgs when I was brought to Enerel hospital in August 2015. Now I am 57 kgs. I couldn't even walk 5 steps without resting. I was treated at the hospital for 2 months and at this center for 4 months now. Doctors suggested that I continue my treatment at this center, because I don't have a home."
Two of their former patients became volunteers and are working for the branches of the NGO in rural provinces helping others who have the same problems. These people were freed from the double burden of TB and alcohol addiction.
"They are freed from TB and alcohol addiction and now they are working for people with alcohol issues at our branch in Zamin–Uud. They did not only become healthy but they are helping those people who have a same issue like them. Therefore we are happy that this TB project was very helpful and is bringing changes into lives of people."
 says Davaa, NGO manager .
*Names are changed due to privacy protection.