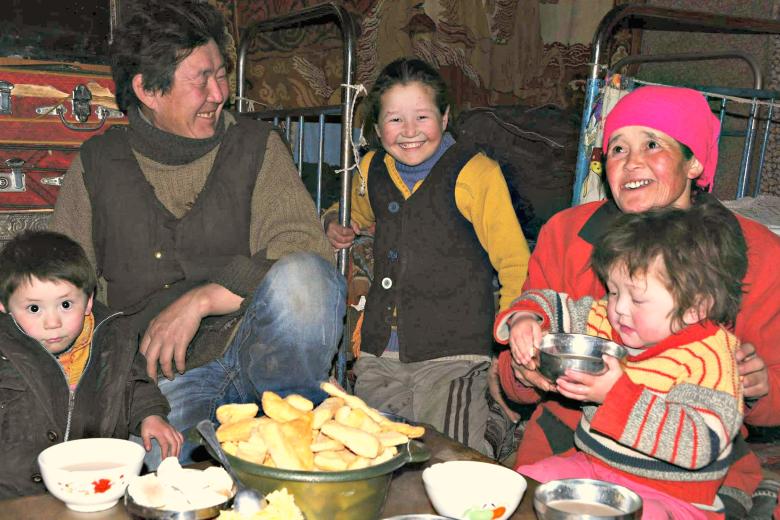 Everything's mine
Friday, May 15, 2015
"The cows are mine. The calves are mine. The milk and yoghurt are mine," declares three-year-old Akhberd. "Everything's mine!"
Akhberd lives with his eight-strong family in Bayanulgii province, which is over 1,600km from the capital Ulaanbaatar in Mongolia's western tip
One day, the boy's father, Kanat, was riding his horse across the countryside when he saw a beautiful girl tending her animals in the mountains. The chance meeting quickly led to marriage and the couple decided to have many children. Now they have six.
The mother, 42-year-old Tanzira, studied until grade 10. She wanted to continue, but her family couldn't afford the tuition fees, while her husband was forced to drop out in grade seven to help his elderly father look after the household's herd.
"My dad had many animals, but we had so much snow one winter that most of them died," Kanat says. "We had 70 sheep, 20 cows, 18 horses, and 10 camels until that point."
"Since, I haven't had many animals of my own," he continues. "I don't have any professional skills because I only used to herd animals, so now I can't get a job."
Kanat and his wife want all their children to be educated and have better lives. Their three eldest children go to school, but one daughter refuses to attend, while the youngest two stay at home.
Grateful for not living in a polluted city, Tanzira says, "I like taking care of my kids. I'm a housewife and have never worked for any organisation. It's nice to live in the fresh air, but sometimes I worry about my children's food and future."
"If I have food, I give it to them," she adds. "But if I don't, it's tough and I have to try to find some."
Kanat says: "We've never argued about not having this or that. Sometimes we had a few animals and I worked at a water plant for six or seven years. Then I made blocks and sold them for about four years."
"But recently World Vision gave us some animals. After a long break, it's nice to have livestock again. We're very happy. We've been married for 15 years, but in all those years, I couldn't afford many animals despite working hard."
"World Vision gave us some cows. It's good to look after them and I think one or two may be pregnant. The most difficult thing is when cows get stuck in the mud and die in April and May, when it's very wet."
World Vision America's three-year support for the 'Livestock for Transformation' (LIFT) project in Bayanulgii, as well as neighbouring Khovd province, means 50 families now have animals to provide nutritious food for children under five. The target is to cut the group's rate of malnutrition by two percent in three years.
At two years old, Akhberd weighed just 9kg, but in the six months since June 2014, when the LIFT team gave his family three cows and three calves, his weight soared to 11.8kg.
"Two of the cows give us three litres of milk in the winter, but it's not enough, so we use frozen milk and yoghurt from the summer," his mother says with a grin.