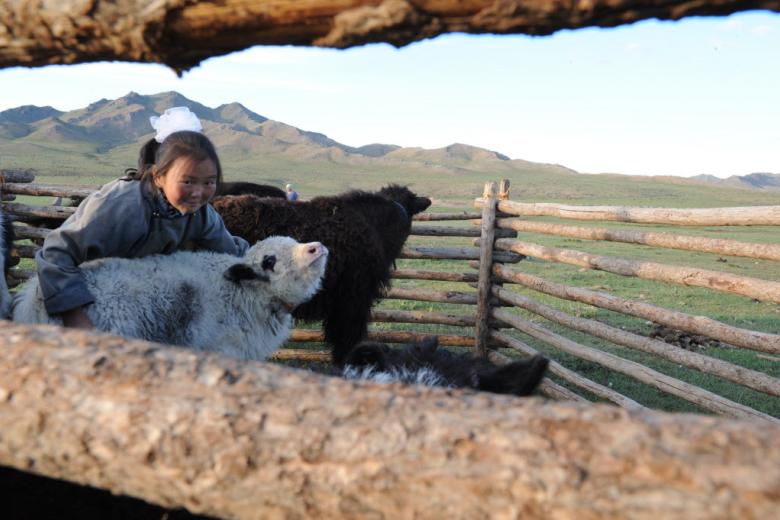 Knowledge for life: Preparing for Mongolia's bleak midwinter, surviving the zud
Friday, October 9, 2015
Harsh weather is a way of life for Mongolians. People are used to surviving the cruelest depths of winter in the zud; a time where the weather is so harsh, animals often starve to death when the thick, icy snow buries the grass.
Bayanbaatar Talkhsuren shares his experiences of shepherding since he was 16. "I've been through a zud four or five times. I like sheep. They walk through the snow and find hay for themselves in the deep snow. It gets to minus 40 or 45 degrees celsius," he says. 
The 43-year-old and his wife have four children, aged between 12 and 23, plus 40 cows, 30 horses and a 300-strong herd of sheep and goats. 
"We learned about predicting the winter from our parents," he says. "They taught us that if a deer bells on the mountains, we'll have a good winter. And if it bellows on the edge of the ravine, we'll have a bad one. If the edge of the lake in Ikh Uul county looks darker, we'll have less snow. But if it looks whiter, we'll have a zud.

"Our family stays together in the warm seasons, but we are together only once or twice in the winter. I worry about them when I'm away. I have to go up to the mountain tops to call them. We're not around much for most celebrations. How often I see them depends on the weather and the animals' condition.
Knowing that fierce winters are inevitable, Bayanbaatar and his wife know that preparedness is key to survival.  They have learned to grow vegetables one year, and hay the next through World Vision training programs. Stocking up on food for them and their animals is critical to survival.

His 38-year-old wife, Enkhtuya Tovuusuren, talks about the months prior to winter: "We prepare our food for the winter in the autumn. We buy four sacks of flour, two sacks of rice,  traditional tea, wood and candles. I prepare dairy products: milk, yogurt and cream," she says.
The couple's youngest daughter, 13-year-old Gereltuya, is a World Vision-sponsored child. The eighth grader says: "I come home during the school break in the winter, from December to February, to look after the lambs, kids and calves. 
"I see that it's difficult for animals during the zud. It's also difficult to see my mum [coping alone] and it's not easy to walk outside. The snow makes my boots wet and I sometimes I get sick and need to take medicine," she says. 


Recently, World Vision worked with 50 herding families to promote disaster preparedness. Trainings were mainly held in their homes, and invited their neighbors to join;  the herders preferred this because they didn't have to leave their animals. 
Herders were encouraged to continue to use traditional preparation methods for the harsh winter. Forecasts are broadcasted on radio stations, but by this time, the herders already have a good idea of what to expect and have prepared ahead of time to make sure that they are as equipped as possible to deal with the weather conditions confronting them.


The zud is a way of life for Mongolians, and herders do not evacuate when a harsh winter is on the way. In particularly harsh winters, help is requested from the capital cities or neighboring provinces.